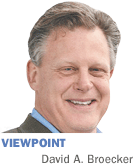 The life sciences industry in Indiana is unique and makes the state one of the top places in the country for employment per capita, product exports and R&D investments. These R&D investments hold the promise to become the next generation of new drugs, diagnostics and medical devices that will enable further growth and better patient care for people not only here in Indiana but around the world.
As IBJ reporter J.K. Wall noted in a recent blog, more can and needs to be done to ensure that more R&D is accomplished here in Indiana so we remain a leader in this critically important sector.
One of the big ideas to do just that is the Indiana Biosciences Research Institute. With strong financial support from public and private stakeholders including the state, Lilly Endowment, Eli Lilly and Co., Roche Diagnostics, Dow AgroSciences, Indiana University Health, and the IU School of Medicine, IBRI is the nation's first independent, industry-led research institute. With an emphasis on epidemic metabolic diseases like cardiovascular disease, diabetes, obesity and poor nutrition, the IBRI represents an opportunity to conduct world-class research focused on breakthrough innovations—something we refer to as "discovery with a purpose."
To compete against other nationally recognized life sciences regions like Boston/Cambridge or San Diego/San Francisco, IBRI and the state need to capitalize on three critical areas:
• Win the global war for talent. We must attract researchers with the best ideas—researchers who are not just funded by National Institutes of Health grants, but those who represent the next source of discoveries that companies and venture capitalists want to invest in. Recruiting talent is a continual process, but talent is out there, particularly emerging talent from well-established institutions.
• Work together in novel, highly collaborative and complementary ways. Collaboration is critical in translating discoveries into innovation.
While IBRI will grow to be a research organization of approximately 200 researchers, we are finding ways to work with research universities and corporate partners to be successful and extend our capabilities. Already, IBRI is working with the Indiana Clinical Science and Translational Institute to gain access to critical core laboratory facilities and the Diabetes Translational Research Center at the IU School of Medicine to recruit researchers. These combined efforts will enable Indiana to compete on a global scale.
• Create a place that brings researchers, entrepreneurs and other innovation partners together. A sense of place makes other regions unique, bringing together talent and facilitating the exchange of ideas and the translation of ideas to innovation.
Mention Kendall Square in Cambridge, Massachusetts, or Mission Bay in San Francisco and people immediately recognize these places as special knowledge communities where great things happen. IBRI is facilitating discussions with a broad and diverse group of community, innovative and entrepreneurial stakeholders to consider 16 Tech for such development.
IBRI represents a novel approach for Indiana to build off the strengths of our life sciences industry, academic research universities, and ability to work together to increase the amount of R&D that gets done here. It's this innovative thinking that can help Indiana maintain its leadership in the life sciences, can boost Indiana's economy, and can bring even more important medical breakthroughs to market.•
__________
Broecker is president and CEO of the Indiana Biosciences Research Institute. Send comments on this column to ibjedit@ibj.com.
Please enable JavaScript to view this content.