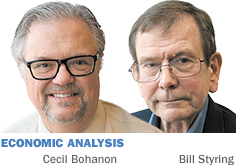 "The only way to stop the General Assembly from spending money is to never give it to them in the first place," then-state Sen. John Mutz famously opined. He was right. Over the years, we've watched legislators try to spend every dollar they can get their hands on, plus whatever else they can get away with.
Indiana now has reserves equal to about 14 percent of its annual spending. This leads to pleas from various interests to spend the "surplus" on their favorite Worthy Social Cause—those reserve accounts should be spent because "the State shouldn't be a bank."
The reserve balances are there for one reason: to cushion against unforeseen shocks that would cause dramatic reductions in public services or tax increases nobody really wants. The question is whether a reserve of 14 percent of spending is too much to do this job. Our answer is no.
A 14-percent reserve can easily be wiped out in one budget cycle by a marginally wrong revenue forecast. Here's how.
For a two-year budget, we really have to project 2-1/2 years out. For example, the December 2016 forecast will be for a budget from July 1, 2017, through June 30, 2019. That's a long time in which something can go badly wrong. Did anyone in December 2006 predict what happened in 2008?
Suppose an unanticipated recession ultimately causes a modest 3-percent annual shortfall in tax revenue and a 3-percent annual increase in spending because of social entitlements. A simple spreadsheet calculation shows that a 14-percent reserve goes to zip in 24 months.
And government forecasters almost never forecast recessions. If a forecaster says a downturn is coming, revenue projections will fall and painful budget cuts will be made.
If the forecaster is wrong, all that pain will prove to have been unnecessary … and the forecaster is a cooked goose. It's safer to go with the herd and predict moderate growth. If everyone is wrong, you don't have to explain why you were more wrong than everyone else.
The second reason is simple: You can be in a recession for quite a while without knowing it! Former Fed Chairman Ben Bernanke told the October 2012 Indianapolis Economic Club that it takes at least a year to determine whether an economy is in a recession.
Even the best revenue forecasters are bound to blow one every now and then. So is a 14-percent surplus excessive? Not at all.•
__________
Bohanon is a professor of economics at Ball State University. Styring is an economist and independent researcher. Both also blog at INforefront.com. Send comments to ibjedit@ibj.com.
Please enable JavaScript to view this content.