As if diners needed yet another reason to visit Virginia Avenue—home to Bluebeard, Milktooth and more—along comes Repeal (630 Virginia Ave., 672-7514), a swanky, swaggering new eatery that is as creative as it is evocative.

The restaurant joins 12.05 Distillery (named for the date of the repeal of Prohibition), in the former Virginia Avenue State Bank building. First-time visitors might be surprised at how intimate the space is, with just a few steps between the door at the front corner and the first booth. Cast-iron radiators, exposed interior bricks, windows to the distillery and vintage lighting fixtures accentuate the early-20th-century roots of the building. (The water served in gin bottles is a nice grace note.) A bar dominates but doesn't overwhelm and the service seemed designed to turn newcomers into regulars.

While waiting for a third in our party to arrive, a friend and I ordered up the Beer Cheese ($8) and a plate of Frites ($4). A crock of the former was served with a trio of wrapped, salted brioche pastries. The frites were boldly delivered unadorned with sauces, which played up the herbs that gave them character. Of course, we still dipped some in the beer cheese, but who could resist that?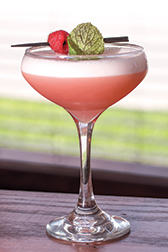 Retro cocktails are key at Repeal. (IBJ Photo/ Eric Learned)
Once our dining trio was complete, we found ourselves doing some serious sharing among the simply named choices. The entrees here fly solo, so budget for side dishes.

A small Crab Cake Salad ($10) parked a lightly encased shellfish orb on a spirited salad, led by small slices of sweet peppers. Smoked Pork ($15) combined jowl, barbecue and kielbasa and each worked with or without the sweet mustard sauce delicately drizzled on and around them. Trout ($19), on the other hand, needed its roasted lemon oil to make it a satisfying choice.

The sides are where the unexpected dominates. Peas ($5) surprised with almonds, white chocolate and dominant mint. One of my guests found them an interesting-but-unappetizing experiment. I, on the other hand, would eat these by the bowl. He was happier with the Carrot ($5), elevated by a honey butter sauce. Golden raisins, appropriately reserved in their sweetness, were an appreciated addition although tricky to fork with the carrots into a single bite.

A slice of Bourbon Buttermilk Pie ($6) dressed with creamed sweet corn (yes, you read that right) and mint cream was subtle almost to a point of disappearance. You could also end the meal with a cheese course … or a few more cocktails.•

—Lou Harry