Four high-profile downtown office towers that recently attracted out-of-state buyers have become embroiled in disputes over their property tax assessments.

Buyers from California to New York swooped into the Indianapolis real estate market over the past three years, paying $49 million for Capital Center and a whopping $195.5 million for Chase Tower. In between, Market Tower sold for $52.7 million and Regions Tower for $67.9 million.

Assessments for property tax purposes are supposed to hinge on those prices, at least in part, after Indiana's 2002 switch to a market-based system that features annual adjustments to values based on sales. Indiana's previous system reassessed properties once a decade.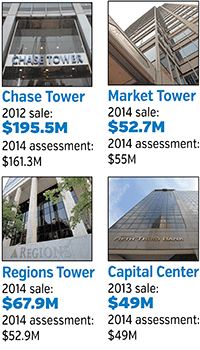 But the system still leaves plenty of room for disagreement, based on the four transactions and the assessment appeals that followed.

"There's no right or wrong answer on what the value of a property is," said Stephen Paul, a property tax attorney at Faegre Baker Daniels LLP. "It's more of an art than a science."

That appears to hold most true for Chase Tower, which Boston-based Commonwealth REIT bought in November 2012 from Beacon Capital Partners, also of Boston.

The Marion County Assessor's Office values the 905,000-square-foot tower, the 153,000-square-foot Monument Circle office building connected to it, and an accompanying parking garage at $161.3 million. That's $34 million less than what the buyer paid.

O'Connor
At first glance, it would seem the county is losing out on valuable property-tax revenue. The Assessor's Office, however, can't value a property solely on purchase price, Assessor Joseph O'Connor said.

"Sometimes we have to say, 'Well, that sale is not reflective of the market; it's a unique property,'" he said. "We don't just take sales on face value, low or high."

Industry experts say Commonwealth REIT's purchase price is more reflective of the long-term tenants signed and other intangibles that an assessment simply cannot measure. Signature tenant JPMorgan Chase, for instance, is signed through 2025.

"Assessment is just not the same as what a buyer would pay given risk and reward," said Jon Owens, an office broker at DTZ. "There's so much more to take into consideration."



The 3-year-old Chase Tower transaction still is the richest yet on a per-square-foot basis ($190) for a multitenant downtown Indianapolis office building.

In spite of the low assessment of Chase Tower, Commonwealth REIT has mounted a challenge.

Faegre Baker Daniels is representing the owner in its appeal.

The firm also represents New York-based Nightingale Group, which bought Regions Tower in September 2014 from a group that included IBJ Media co-owners Michael Maurer and Robert Schloss.

Nightingale, too, is challenging its assessment, even though it's lower than the purchase price by $15 million. But a steep and sudden rise in assessed value might have triggered the appeal.

The assessed value of Regions Tower rose dramatically—from $33.6 million in 2011 to $52.1 million in 2013, according to county records. But much of the increase undoubtedly is due to improvements done to the building's façade after a storm blew out dozens of windows in 2006.

"It all goes back to the market and, 'What is the market value of these properties?'" said Paul, the Faegre attorney. "We don't file an appeal unless we think we're right."

Paul declined to say how much either of the firm's clients thinks their assessments should be. Buildings assessed at higher values than their sale prices are more obvious targets for appeal.

Santa Monica, California-based Hertz Investment Group paid $49 million in February 2013 for Capital Center North and South at 201 and 205 N. Illinois St. The Assessor's Office valued the property the previous year at $56.4 million. Hertz appealed and reached a settlement in which the buildings and parking garage now are assessed for what the company paid.

In another deal, Chicago-based Zeller Realty Group shelled out $52.7 million in October to buy Market Tower at 10 W. Market St. out of foreclosure. Embattled Indianapolis-based developer HDG Mansur had owned the building at the northeast corner of Market and Illinois streets.

The Assessor's Office valued Market Tower and its parking garage in 2013 at $69 million. Following Zeller's purchase, the company sought and received a lower assessment of $55 million—still more than $2 million above what Zeller paid for the property.

For Zeller, the settlement was painless, said Mark Vollbrecht, who manages Zeller's Indiana operations.

"We approached the assessor directly after we purchased the property, and we were open book with them," he said. "The assessor basically adjusted the assessed value because it was considerably higher than market value."

The Assessor's Office is somewhat hamstrung by a small staff that nonetheless wants to assess properties fairly, Paul said.

"Sometimes the assessor doesn't agree and we go to litigation, and sometimes we settle," Paul said. "Generally, when there's a settlement, neither party is happy."•