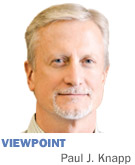 Legitimate concerns are being raised by the City-County Council about the transparency and opportunity for debate of both the Blue Indy and Vision Fleet contracts negotiated and executed by the Ballard administration. These concerns deserve to be aired and the administration should work hard to address them even though the contracts are signed and being implemented.
But let's not let our irritation with the administration's process lead to the diminishing or dismantling of two bold, forward-thinking initiatives for our city.
Blue Indy is a first-of-its-kind electric-car-sharing service that will be available to all Indianapolis citizens. Think: the successful Pacers Bikeshare program but with small electric cars available city-wide. Vision Fleet is a program designed to shift our city's huge automobile fleet from traditional vehicles to electric and hybrid cars.
Both programs: 1) chip away at our city's dependence on gasoline-powered automobiles, which are major contributors to our city's poor air quality, 2) help set Indianapolis apart from every other major city in America as a place where innovation is applied to make a dent in long-standing urban challenges, and 3) will make a major difference in how this city is viewed by the ever-important millennials and "creative class" who help fuel our city's growth while simultaneously enriching our culture and lifestyle.
Indianapolis citizens of all stripes expect transparency and fair opportunity for community input and debate on projects of this magnitude and importance. The administration could have and should have done a better job as it attempted to secure these bold steps into the future.
It is understandable to see administrations rush forward with well-intentioned ideas, especially bold ideas, in an effort to make a real difference for the city before their terms are up. But we still live in a great, enduring, participatory democracy where transparency and debate are central to citizens' trust and confidence in their local government. An administration skips these curial steps in the governmental process at its great peril.
Which brings us to where we are today with both the Vision Fleet and Blue Indy initiatives. How do we address the core issues at the heart of the concerns without undoing what are clearly important steps toward solving major urban challenges?
I suggest the following path. First, those in the council raising the legitimate concerns should dispense with the natural desire to punish the administration for being less than forthright and open. And the administration should admit that, in its zeal to make a bold difference, it leap-frogged over processes that would have allowed more public input, debate and, ultimately, buy-in.
Second, all sides should agree that the programs themselves are important additions to the life of this city and should remain largely intact. Third, if the council and the administration can't do it themselves in direct talks, then engage any one of the many distinguished civic leaders in our community who understand the unique public-private collaboration tradition that is a hallmark of Indianapolis, to mediate the dispute over these incredibly important programs. Jim Morris, Ted Boehm, Susan Williams and Joe Slash, to name just a few, come to mind as civic leaders who could help mediate these controversies.
The challenges that face our city are enormous. Let's make innovative, long-term progress the central focus of our agendas and put heated rhetoric and egos aside as we work together to make Indianapolis a shining example of what is possible in urban America.•
__________
Paul J. Knapp, CEO of Young & Laramore Advertising, is a former local counsel for the Indiana Democratic Party and several Democratic candidates for Congress.
 
Please enable JavaScript to view this content.