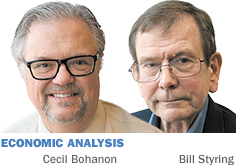 For political progressives, raising the minimum wage is like bread or air. Something so staple they can't do without.
As economists, all we insist is that they recognize the downsides. In particular, fans of goosing the minimum wage should acknowledge that raising the price of labor by legislative fiat costs jobs.
An honest leftist wouldn't stop with boilerplate lines like, "I want to give America a pay raise," or, "Everyone deserves a living wage." Full disclosure demands adding, "Of course, this also means some of you won't find jobs."
Economists have our own staple. It's called the law of demand. A higher price for almost anything means less of it will be demanded. Pass a law saying the minimum price for a stripped-down Chevy is $50,000, and GM will sell fewer Chevys. Labor is no different. Set a higher minimum wage and fewer will be employed. All we argue about is how much less. 
With such a nasty negative, why is the minimum wage such a political winner? One answer is, the "good" is seen while the "bad" never surfaces. Call it the "what makes the evening news fallacy."
Consider the example of Will's Widget Works. Will has 10 employees, all earning minimum wage—widget making is unskilled. The minimum wage goes from $7.25 an hour to $15. At 15 bucks, Will decides he wants only seven employees.
But Will doesn't immediately fire three people. Unskilled jobs typically have high turnover. Will knows that if he waits six months, three employees will quit for something else. He doesn't have to inflict the pain of outright firing anyone.
What makes the evening news? Linda, who works for Will, gets interviewed, along with the beaming politico who "fought" for her higher wage. Linda is, of course, happy and waxes enthusiastic. All seems wonderful. Over the next three months, three employees move on and here is the key: They are not replaced.
Enter Fred, the unskilled-job seeker. He would love to work at Will's Widget factory. Fred would work for $7.25 an hour. But at $15 an hour, Will isn't hiring. Fred doesn't know the minimum-wage hike is the cause of this. Fred doesn't know he's a victim. Nor does the Evening News. Fred never makes it on TV.
The minimum-wage argument keeps coming back like a bad penny because the harm is unseen. Maybe good politics, but lousy economics.•
__________
Bohanon is a professor of economics at Ball State University. Styring is an economist and independent researcher. Both also blog at INforefront.com. Send comments to ibjedit@ibj.com.
Please enable JavaScript to view this content.