Three years ago, Interactive Intelligence CEO Don Brown got an email from Jeff Swartz, the ninth employee he hired after he founded the company in 1994, about plans to leave for a startup.

Swartz
Brown was a bit pained by the message, but instead of simply bidding farewell, he personally invested $700,000 in Swartz's venture, cloud software developer OrgSpan.

Last year, Interactive bought Durham, North Carolina-based OrgSpan for $15.6 million, and Brown's initial bet is starting to pay off for Interactive, which built its reputation on selling contact-center software. Lately, the 2,100-employee company has been evolving to serve its clients' external and internal communication needs via the cloud, and technology gained in the OrgSpan acquisition has been vital in that effort.

Brown
"Interactive Intelligence would be in a far worse competitive position without PureCloud and the underlying OrgSpan technology," Brown said in an email to IBJ, speaking about the firm's new customer-support platform.

Even though big companies invest heavily in technology and R&D, they often struggle to mimic the mojo startups enjoy. Swartz, a senior engineer at Interactive before he left, said startups tend to have a lot more creative room.

"It's very difficult within large organizations to spin up independent efforts because people always get sucked back into what that organization is doing," he said.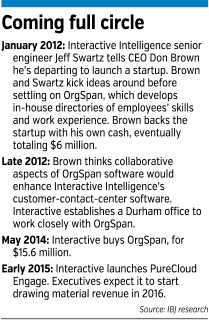 Older tech firms usually compensate by acquiring more nimble, innovative startups, but not every acquisition target is for sale. As majority investor in OrgSpan (he injected a total of about $6 million), Brown was able to remove the risk of Interactive's getting spurned, yet still reap the benefits of a startup.

"I got my money back, plus some restricted stock incentives tied to PureCloud sales targets," Brown said. "[Swartz] and the OrgSpan employees all received Interactive Intelligence stock that vested over time. It was a fair deal for everyone involved."

Not every Interactive employee with the startup bug will necessarily fare as well as Swartz. He had a history with Brown, working with him at Software Artistry, which Brown founded in 1988.

And Brown exerted some damage control when he made his original investment: Swartz's startup could not be based in central Indiana.

"You really don't want to create a situation that induces lots of key people to jump ship looking for startup gold," Brown said.

He also played a role in molding the idea for OrgSpan, which specialized in enterprise collaboration, or in-house communications. Swartz said he knew he wanted to become involved in a startup, but initially didn't know what kind. His goodbye email to Brown morphed into talks about business problem-solving, and the two ultimately settled on a profile-based employee network for large companies—somewhat like an internal LinkedIn.

"We felt that companies were vastly underutilizing the experience and background of people within their organization simply because no one knew about it," Swartz said.

For a headquarters, Swartz chose the Raleigh-Durham area, a hotbed of cloud computing talent. That was important because he wanted to build OrgSpan on a multi-tenant cloud platform, which allows software companies to rent their virtual space. Under a single-tenant model, software companies own the data-center-based hardware that runs their software, making them responsible for its management.

It wasn't long before Brown became interested in adopting the multi-tenant model, Swartz said. In addition, OrgSpan software allowed contact-center callers to choose customer-service agents based on expertise listed on the agents' profiles, increasing the likelihood that customer problems would get resolved.

Brown said he didn't originally plan for Interactive to buy OrgSpan, but its software architecture and offerings made the acquisition a no-brainer.

"As they started building more collaboration stuff, it became apparent to me how it could be used in customer service," Brown said. Orgspan had 40 employees when Interactive bought it, and the Durham offices have continued to grow. Interactive plans to grow its workforce there to about 340 by 2019.

Today, Swartz is part of Interactive again as vice president of innovation, a role in which he's continuing to develop PureCloud.

"Poor Jeff. He tried to get away, but now he's back with Interactive," Brown said.•