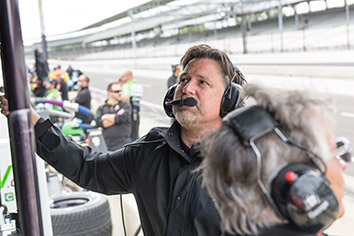 A new lawsuit that claims Andretti Autosport—one of the IndyCar Series' biggest teams—is on the brink of insolvency has many questioning the viability of the open-wheel series itself.
"IndyCar teams in general are at the weakest level I've ever seen them," said former driver and current motorsports analyst Derek Daly. "I would estimate that three-fourths of the IndyCar teams are financially unstable. It's the worst situation I've seen in American open-wheel racing in decades."

Daly
That's saying something, considering that things were so bad for IndyCar competitors CART and Champ Car that those open-wheel-racing series folded—CART in 2003 and Champ Car in 2008.
Two team owners reached by IBJ agreed with Daly's assessment that about three-quarters of IndyCar teams are facing serious financial difficulties; another said more than half are in financial peril. All three asked not to be named.
Last month, Mark Miles, CEO of IndyCar parent Hulman & Co., told team officials that if they speak negatively about the series, they risk being fined.
But there's other evidence of problems. GoDaddy, National Guard and Apex-Brasil are just a few of the series sponsors that have departed in the last year—and a dearth of big sponsors has kept some of IndyCar's most promising young drivers parked.

Andretti
Simona de Silvestro, 26, has been limited to three races (she's scored two top 10 finishes) this year due to a lack ofsponsorship. Andretti has had difficulty signing sponsors for 23-year-old Carlos Munoz, who won his first IndyCar race in Detroit in May. The Colombian has stayed on the track this year through financial support from his family, sources said.
And Chip Ganassi, owner of one of IndyCar's biggest teams, has had challenges finding enough sponsorship money to put 20-year-old Sage Karam, who won the 2013 Indy Lights title, on the track full time.
Veteran drivers, too, have been caught out. Ryan Briscoe, a popular driver who has won seven races in an 11-year IndyCar career, has raced only six of 14 IndyCar races this season because he couldn't find sponsorship.
While Andretti said allegations in the recent lawsuit are "unfounded," he indicated in May that trouble could be on the horizon for his teams as well.
"I'd like to make a profit—someday," he told IBJ while preparing for the Indianapolis 500. "It's been really difficult. We're just keeping the lights on.
"Corporate budgets are much tighter now and there's much more competition in sports marketing," Andretti said. "Every company wants specifics on a return on investment. They want data and analytics to back up their spending. It creates a lot of pressure."
Widespread pain
Sarah Fisher, co-owner of Carpenter Fisher Hartman Racing, indicated Andretti Autosport is not alone in its struggles.
"It's been a big challenge for a lot of [IndyCar] teams," Fisher told IBJ following her team's June 14 victory at the Honda Indy Toronto street race. "We're all chasing sponsorship dollars."

Miller
The current situation is especially troubling given that some of the series' most powerful teams are sputtering, said Robin Miller, a motorsports journalist for four decades who currently covers the IndyCar Series for NBC Sports Network and Racer Magazine.
"When guys like Michael Andretti and Roger Penske are having difficulty finding sponsors, that tells you about all you need to know," Miller said.
The lawsuit filed against Andretti Autosport by one of its sister companies, Andretti Sports Marketing, claims Andretti Autosport has "less than $2 million in unencumbered assets and at least $7 million in debt, plus additional liabilities that may be in excess of $10 million." It further states that Michael Andretti and Andretti Autosport are under "immense financial pressure."
In the lawsuit, filed July 30 in Marion Superior Court, the plaintiffs claim Andretti Autosport in 2014 and 2015 borrowed or obtained $6 million to $8 million from "various sources" to cover losses and continue operating.
The suit details instances in which it alleges Andretti Autosport withheld payments to Andretti Sports Marketing, moves that let the company lend "itself money for months at a time that should have been paid" to the marketing firm.
The money, the suit claims, was used to pay Andretti Autosport employees and other operational expenses without permission from minority owners John Lopes or Starke Taylor, as is required by the partnership agreement for Andretti Sports Marketing.
Those contentions could be construed as sour grapes by Lopes, who was fired by Andretti last month as manager of Andretti Sports Marketing. Lopes, represented by local law firm Barnes & Thornburg, is spearheading the lawsuit. Michael Andretti owns 60 percent of Andretti Sports Marketing; Lopes and Taylor each own 20 percent. Andretti owns 100 percent of Andretti Autosport.
"Neither Lopes nor Taylor are owners of Andretti Autosport, and as such they do not have access to the financial information concerning Andretti Autosport," Michael Andretti said in a statement to IBJ. "Their allegations are unfounded."
Lopes and his attorney, Rob MacGill, did not return calls seeking comment. Andretti hired well-known local attorney Jim Voyles to represent him. Voyles did not return calls seeking comment.
Lopes well-respected
Many within IndyCar say there's some substance to what Lopes, an attorney with a long history as a strong salesman, alleges. And Andretti officials conceded cutbacks and layoffs within their operation.

Brown
"John Lopes has always been known as a straight shooter and a knowledgeable guy," said Zak Brown, founder of Zionsville-based Just Marketing International, one of the nation's biggest motorsports sponsorship brokers. "He's well-respected."
Sources familiar with Andretti's business said the operation has run into a spate of trouble. Andretti Autosport, which runs teams in the IndyCar, Global Rallycross and Formula E series, didn't get paid by sponsors of Kurt Busch's 2014 Indianapolis 500 entry and by a major sponsor of IndyCar driver James Hinchcliffe last year. Those losses, sources said, amounted to $5 million to $7 million.
Andretti Sports Marketing in June filed a federal lawsuit in Louisiana against NOLA Motorsports Park, where the IndyCar Series' Grand Prix of Louisiana was held April 12. Andretti claims NOLA Motorsports Park owes it $645,000 as part of its contract to put on the race, plus $206,000 in expenses approved by track officials.
The cost of racing, too, has gone up. In May, Andretti complained that the new aero body kits mandated by the series are costing him an additional $1.7 million per car but do little to increase fan interest in his team or the series.
"Andretti has always been a front-running team that is strong with sponsors," Brown said. "I don't know the details of their recent lawsuit, but I tend to think they'll continue to run and be successful."
Miles remains bullish on the open-wheel series. This month, noting that television ratings and live race attendance are up over last year, he said: "We're not where we want to be yet, but things are headed in the right direction."
Daly isn't sure what Miles is excited about.
"The TV ratings are a slight uptick [about 10 percent this season over last], but the overall numbers are so low, the increase is not a value hit for the sponsors," Daly said.
As for live attendance, Daly pointed out that only 4,000 spectators attended the June 27 IndyCar race at Fontana, California.
"It was shocking," he said.
Sam Schmidt, co-owner of Schmidt Peterson Motorsports, said series executives need to make more consistent progress for teams to gain traction with sponsors. Derrick Walker this month announced his resignation as IndyCar's competition boss at the end of this year—after only 2-1/2 years. He replaced Randy Bernard, who lasted less than three years as IndyCar chief.
"For the five years I've been in the series," Schmidt said, "it's literally somewhere between two steps forward and three back or two forward and four back."•
Please enable JavaScript to view this content.