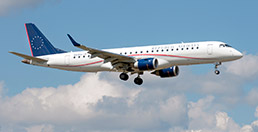 Indianapolis-based Republic Airways is at a pivotal point in its 42-year history.
The publicly traded regional airline—whose pilots operate nearly 1,300 flights a day for the nation's legacy commercial carriers—just suffered a stock market nosedive that has company executives and Wall Street analysts bracing for impact.
A years-long contract dispute between the airline, officially Republic Airways Holdings Inc., and the labor union that represents its pilots has grown bitter under the stress of a new lawsuit.
And a national pilot shortage has created difficult hiring conditions that are threatening profitability and productivity.
Then, the company suffered a key leadership loss. On Aug. 5, CFO Tim Dooley, a long-term executive, announced he'll leave in September. That's led to shifts in responsibilities within the executive offices.
Still, Republic's headquarters near the Pyramids was bustling with activity on a recent morning as its 1,600 local employees conducted business as usual. A 24-hour dispatch team in a large back office monitored Republic Airways flights on large computer screens and talked to crews in the air. Catered food for lunchtime meetings made its way up the elevator.

Koscal
Matt Koscal, vice president for human resources, was preparing for a fast-approaching deadline: On Aug. 20, Republic will present its "best and final" contract offer to the International Brotherhood of Teamsters Local 357, the union's airline division and national mediators.
A June plan from Republic proposed raising starting pay for first officers—the early-career fliers seated next to the pilot—74 percent, but negotiations stalled shortly after. Company officials won't say exactly what they'll offer this time, but Koscal said he's confident the proposal will stand out as a leader among its competitors.
"What we've got on the table is truly an agreement that would make a significant investment in the quality of life for our pilots," Koscal said. "The [union's] leadership team has been in search of the ideal or the perfect contract in their mind. That doesn't exist."
If the pilots accept, airline executives can breathe a sigh of relief and focus on restoring Republic's productivity and earnings. But if not, top executives for the company say, more turbulence is in store.

Allman
"There is no way to sugarcoat this," Joe Allman, who became CFO in the wake of Dooley's exit, said during the company's dismal second-quarter investor call on Aug. 7. "The financial results for this quarter are unacceptable.
"We cannot continue down the current path."
Caught in the middle
Republic's problems come as the regional-airline industry faces increased pressure to raise wages because of a pilot shortage caused at least in part by changes in federal training rules.
In late 2013, a Federal Aviation Administration rule went into effect that increased minimum required flight time before pilot certification from 250 hours to 1,500 hours. That change came at the urging of Congress after the 2009 crash of a Continental Connection flight, which investigators linked to inadequate pilot training.
The new rule has had a drastic impact on the industry, according to Purdue University professor John Wensveen, who runs the school's Department of Aviation Technology. He said early-career pilots can no longer afford to make the lower salaries offered by regional carriers.
Depending on the cost of flight school, paying for training can rack up debt surpassing $200,000. People just can't justify that on a $20,000-a-year starting salary, Wensveen said.
"The investment is very high and the starting salaries are very low," he said. "It's a dilemma."
So far, the rules aren't hurting legacy commercial carriers, who have been recruiting from regional airlines with the lure of a significant pay bump.
That leaves regionals including Republic feeling the squeeze. And it prompted the company to offer what it says is a fair pay increase: a raise in starting pay for first officers from $22.95 per hour to $40 per hour.
"We see the market is going to require additional investment in pilots," Koscal said. "We need to take the lead there."

Clark
But Local 357 President Jim Clark said the company hasn't done enough.
"I don't think the regionals have adapted fast enough for the change that needs to happen," Clark said. "There's just not many people wanting to go into this business. You just can't earn a living."
An 'emotional' conflict
Republic and the union technically have been negotiating a new contract for eight years. But things have heated up in the past year or so as the shortage has worsened.
Tensions were inflamed in mid-July when the union sued Republic, saying the airline violated the Railway Labor Act by unilaterally increasing pay for pilots and new hires. The company, which asked a federal court to dismiss the case, said the suit was "nothing more than an improper tactic by IBT Local 357 to distract our employees and pressure the company." The court has not yet ruled.
Both parties have changed their negotiating teams since the beginning of the deal.

Bedford
"It is highly emotional," CEO Bryan Bedford said on the Aug. 7 call. "That makes it hard to predict the outcome. Hopefully, cooler heads will prevail and pilots will make a rational decision that's in their best interests. But the company is going to be prepared for either outcome."
After eight years, Clark said, both parties have become weary at times.
"You need to take the emotions out of it and sometimes it's hard to do that," he said.
Still, Koscal said the company's current proposal has come a long way from the early-2014 version.
That proposal offered starting pay for first officers somewhere in the $20 range, he said. Since then, the company also has added a provision called "leg-by-leg cancellation pay," which means pilots will be paid for flights even if they never get off the ground.
"We respected the fact that they voted it down," Koscal said of the 2014 proposal.
But Republic hasn't viewed the union's current offer with the same attitude, calling it exorbitant. The proposal includes a $348 million ratification bonus and had a three-year cost of more than $1 billion, the company said.
"Any reasonable person knows these types of demands are outrageous and irrational," Koscal said on the earnings call.
Clark said that's how negotiating works.
"You've got to start somewhere," he said. "When you negotiate, you don't come in low. You come in a little high."
Koscal said the company was pleased to see its offerings were in line with its main competitor's. Utah-based SkyWest Airlines, which operates more than 1,800 flights a day, announced on Aug. 11 that it ratified a new, three-year contract with its pilots.
SkyWest called the deal an "industry leader," but Koscal said Republic officials "match or beat that deal with what we currently have on the table."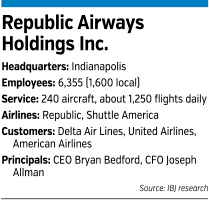 'Really risky stock'
Adam Levine-Weinberg, a writer for The Motley Fool investing blog who monitors the airline industry, said he doesn't blame anyone for dumping the stock given the company's current challenges.
"It could be a promising company, but right now it's a really risky stock to hold," Levine-Weinberg said. "There's so much uncertainty."
That's a change of heart for Levine-Weinberg, who wrote in February that investors were overreacting to what he expected to be a "year of transition" for the company when shares took a 14-percent slide.
"I underestimated at that time just how bad the pilot dispute was going to get," Levine-Weinberg said. "It's gotten into a situation where they're playing a game of chicken between the pilots and the company."
The company reported gloomy second-quarter performance on Aug. 7, nearly two weeks after its stock took the largest one-day drop in its 11-year public history. Shares plummeted 55 percent July 27 as the company predicted profits far short of its previous expectations and predicted more flight interruptions and reduced schedules.Bedford said the uncertainty is making it difficult for the company to anticipate future earnings. Republic recently rescinded the rest of its financial guidance for 2015 and its operational guidance for 2016.
But Bedford said he knows this: "The company simply cannot afford to stay the course."
Republic said its reduced operating revenue this quarter is partially the result of low productivity. The amount of time its planes were in use—a key industry measurement called block hours—dropped 5 percent from the same quarter last year due to Republic's staffing challenges, Allman said.
The company asked its major-airline partners in late May to reduce Republic's summer flying schedule because of crew flight cancellations. When Republic told the union it would start incentive pay to try to fill the gaps, the union told pilots not to pick up more shifts.
"Our inability to reliably fly our schedules for our mainline partners must change quickly," Allman said on the investor call.
The company pleaded with its employees on the call to not let the contract dispute come into play during day-to-day work.
"So what we don't want to see happen is any kind of sniping out on the line," Bedford said.
Clark said pilots are committed to staying professional, but that the longtime dispute has had "a drain on the workforce."
"It does affect people," he said. "Some people can compartmentalize. Others understand that this is a business. We want to make that business successful, too."
So far, the company's main customers—the legacy commercial airlines—don't seem especially spooked by the turmoil.
United Airlines and American Airlines both said they were working with the company to try to prevent disruptions. Delta Air Lines did not respond to IBJ's request for comment.
American Airlines spokeswoman Martha Thomas said the company made some "very minimal adjustments" to future schedules as a result of Republic's struggles.
It is in the legacy airlines' best interest to help Republic through this time, Levine-Weinberg said. But that could change.
"They want to have the flexibility to contract out," he said. "It doesn't make sense for them to drive Republic out of business. It depends on whether they think they have other options."•
Please enable JavaScript to view this content.