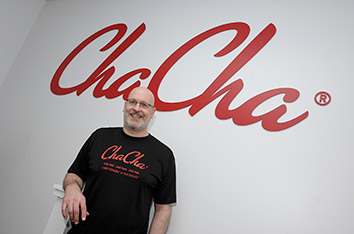 ChaCha Search CEO Scott Jones is trying to keep the firm in the black in hopes of finding a buyer, and has slashed expenses including the lease on its former headquarters in Carmel.
In mid-June, the question-and-answer service moved out of its headquarters at the Clay Terrace shopping center, and it wasn't long before that its red signage and cursive "ChaCha" logos left too.
It marked, what seemed, the end of the road for ChaCha, a 10-year-old company that once boasted more than 100 employees and a few hundred million monthly page views before getting dogged by changes in the Internet search space.
The company has not closed but rather operates virtually, CEO Scott Jones said. That's part of a strategy of cost-cutting that helps ChaCha ensure profitability while Jones awaits a suitor.
"In today's world, working remotely is just not a problem for the business," Jones said in an interview Friday with IBJ. "There are plenty of startups that do it as they're starting up, and we're doing it as we're starting down."
ChaCha's original core business was using humans to answer questions from customers via desktop Internet, and later via text message or mobile app. It was conceived at a time when people had to dig through dense search-engine results to get answers to questions about game scores, weather forecasts, health remedies, trivia and more. It paid so-called guides to research answers for those and other questions that computers would have a hard time handling, and it sold advertising embedded in its answers.
The company attracted about $82 million in venture capital from investors including Amazon CEO Jeff Bezos, Jones said, with Jones injecting about $32 million of his own cash. He made his fortune in part by inventing and selling a version of the technology behind voice mail.
Like most startups, ChaCha struggled to turn the corner to profitability. And it never found its footing.
Smartphones gave people other avenues for quickly finding answers to questions. One of the biggest headwinds came from search-giant Google, which over the years introduced updates and tweaked algorithms that effectively lowered where ChaCha appeared in its search results. These days, Google has an Answer Box, which answers questions like "What is Red Nose Day?" or "Who won the 1918 World Series?" above results.
Those and other developments sent ChaCha's web traffic careening. In August 2013, ChaCha's best web traffic month on record, it had 260 million page views, according to Internet traffic firm Quantcast. In July of this year, it had 8.6 million page views—a 97-percent decline.
Jones said he's been shopping the company around for a few years, and he believes ChaCha and its trove of already-researched answers can be valuable to digital assistants like Apple's Siri, Microsoft's Cortana, Google Now, and others. Jones said ChaCha outperforms those services on topics including relationships, recipes and health. But until someone bites, he's looking to keep ChaCha cash-flow positive.
Jones said he slashed expenses over the past year, including not renewing the lease at Clay Terrace, reducing vendor costs, and converting half of his roughly one dozen workers from full-time employees to contractors.
He has also been seeking to hash out contracts with government agencies to ease customer-service call volume. For now, his only client in that space is the Department of Veteran's Affairs. Jones said organizations pay between $3 to $6 for each customer-service call fielded, but ChaCha's human-powered, text-based model would cost them about a tenth of that.
Still, Jones said, advertising makes up about 80 percent of his company's revenue, although it fluctuates wildly. Cost-cutting has helped insulate the firm from the swings, and this past quarter the company had a 40-percent profit margin on $2 million in revenue, Jones said.
He hopes profitability will remain constant, and he's been using it to pay down the company's debt. ChaCha had about $3.5 million in debt last year, and that figure is down to $1 million now, he said.
"I'm not willing to throw in the towel yet, because somebody's got to want it for something," Jones said. "We've gotten ourselves to a place where we're cash-flow positive and profitable, so we don't have to throw in the towel."
Please enable JavaScript to view this content.