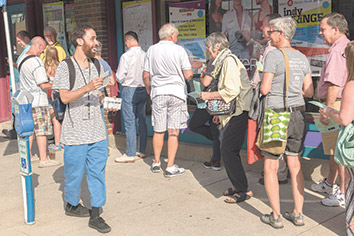 As I write this, IndyFringe (Aug. 13-23) is around the midway point in the 11-day annual event. Word on the street and media reviews (see mine at www.ibj.com/arts) have kicked in for the 78 shows and each is making its push to land in the black after the final weekend.
Local actor (and past Fringe participant) Brian Hartz appropriately called IndyFringe "a week-long cast party for the whole city with some shows in between." With the convergence of so many creative folks in one place, questions, debate and insights are bound to fly. Here are my thoughts on some of the questions I heard while making the rounds.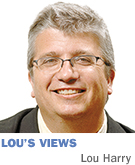 "Why are there still people who don't know IndyFringe is going on?"
You see it every year—uninitiated folks visiting Mass Ave for dining and drinks wondering what the lines outside the theaters are all about. After 11 years, isn't it about time the city and the street fully embrace the festival with significant banners and other celebratory signage? There doesn't seem to be any indication elsewhere in downtown that the fest is going on.
"How fringe should a fringe festival be?"
While adult language and subject matter have certainly become a part of the festival, I agree with the patron who asked if any shows truly push the envelope. In 11 years of fringing, I don't think I've seen any. Granted, I see only a small percentage of each year's offerings—and it takes a lot to surprise me—but if there were something truly out on the edge, I think I'd know about it.
"Why don't we hear more about what these people do the rest of the year?"
Sure, Fringe performers and producers were out in force trying to woo audiences to their six performances during Fringe. But I agree with the audience member who commented to me about how remarkably bad many of the producers were about telling audiences where to see them the rest of the year. "Are they local?" another neighbor at one show asked. After answering, I wondered why the answer wasn't found in the program or a pre- or post-show announcement.
"The fringe of what?"
Technically, a fringe is defined by something it is on the fringe of. The Edinburgh Festival Fringe—the grandfather of all the fringe festivals—started as a reaction to the Edinburgh International Festival. Now the Edinburgh Fringe has gotten so popular that there's a Fringe of the Fringe festival. But when our Fringe also runs a theater that is available for bookings throughout the year and hosts other festivals as part of its programming, well, that puts it squarely in the mainstream, one local theater pro ranted. Her belief: A fringe fest should supplement rather than be in competition with existing arts organizations for audiences and grant money.
"Can the Fringe do OK without such past-fest anchors as $3 Bill Comedy, Q Artistry and Angel Burlesque?"
While some past hit-makers were absent from the 2015 fest, the producer who raised that question—one I admit I had asked myself—apparently didn't need to be concerned. Sellouts were noted at many of the opening weekend shows, and new hits were created.•
__________
This column appears weekly. Send information on upcoming arts and entertainment events to lharry@ibj.com.
Please enable JavaScript to view this content.