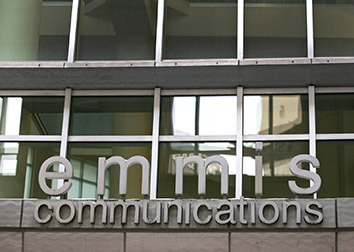 Emmis Communications Corp. subsidiary NextRadio LLC recently signed one big deal and is on the verge of another that could bring tens of millions of dollars to radio stations nationwide as well as bolster the fortunes of Emmis' own struggling stations.
But Emmis Chairman Jeff Smulyan and his followers have farther to travel to reach their goal of turning smartphones into the new-age transistor radio for the masses. NextRadio, an industry-wide initiative led by Emmis, brings terrestrial FM radio to the smartphone via an FM chip that's in all smartphones but is deactivated by most U.S. carriers.
What NextRadio is able to accomplish over the next year, industry experts said, will determine whether Smulyan's years-long quest ultimately succeeds or fails.
Smulyan
Less than three weeks after signing a deal with AT&T to activate the FM capacity in all its Android phones starting Jan. 1, Emmis got a nod Aug. 14 via Twitter from T-Mobile CEO John Legere saying T-Mobile is ready to flip the switch on the FM chip.
With AT&T and T-Mobile on board, "Everyone in radio is getting behind this," said Chuck Williams, market manager for Radio One's Indianapolis cluster of stations. "This is huge."
Though a deal with T-Mobile isn't signed yet, NextRadio officials hope the cellular company will be selling phones with activated FM listening capabilities by early 2016.
The financial ins and outs of the AT&T deal and anticipated T-Mobile deal have not been disclosed. Those pacts come almost two years after NextRadio agreed to pay Sprint $45 million over three years to turn on the chip in that carrier's phones—a first step in proving consumers will use cell phones as portable radio receivers.
"We're scaling the mountain," Smulyan said.
The climb has been expensive.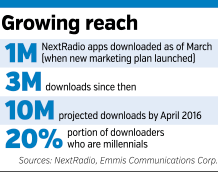 Already, industry sources said, Emmis has spent more than $10 million, maybe a lot more, on the NextRadio effort. That includes creating the app, creating advertising to generate consumer interest—thereby putting pressure on cell carriers to turn on the chips—and, at least in some cases, paying the carriers for their cooperation.
Gaining the cooperation is a sizable obstacle, since carriers rack up data charges when consumers listen to streaming services such as Spotify or Pandora or even when they listen to conventional radio stations via streaming.
NextRadio uses just a sliver of wireless data to give listeners an interactive experience, allowing them to do everything from tracking which songs stations are playing to buying concert tickets. Smulyan and others say the service will encourage radio listening throughout the day, expanding far beyond morning and evening rush hours.
The radio industry also is eager to reduce its reliance on streaming because the service is costly for them. For just $39,000 in annual electricity costs, Emmis' Power 106 in Los Angeles can reach 15 million people in Southern California with its traditional FM signal. It would cost Emmis $1 million a year to send the data to reach a similar audience via cellular services.
Emmis isn't alone in the NextRadio crusade. Other radio station operators and the National Association of Broadcasters have made smaller financial contributions to the effort.
After Emmis' expenses increased $2.6 million in the latest quarter, Chief Financial Officer Patrick Walsh said on a July conference call with investors that the rise was due primarily to "scaling" two emerging technology segments, one of which was Next Radio.
Smulyan declined to specify how much Emmis has spent on NextRadio but called the investment "sizable."
"I believed from the beginning, this was a game changer," Smulyan said, adding that his company is small and nimble enough to take on such a task "and do it quickly."
In the past decade, radio's audience has been eroding, first because of MP3 players—most notably the iPod—and satellite radio, then more recently because of streaming services such as Spotify.
Next steps
Verizon is likely to be NextRadio's next target. Smulyan is hopeful a deal can be signed within a year.
Apple might be the last to embrace the FM chip, he said, because of its own online music business. But he thinks it eventually will follow suit.
"We will be in every smartphone in the United States in less than 10 years," he said.
Marketing is another major challenge.
Before Emmis launched a major marketing campaign in March, consumers had downloaded 1 million NextRadio apps. Since March, that number has grown to 4 million.

Brenner
Media buyers said they'll need to at least triple that to gain traction with advertisers.
"Our goal is to have 10 million [apps downloaded] by early 2016," said Paul Brenner, NextRadio's president.
University of Indianapolis communications instructor Scott Uecker is optimistic NextRadio can continue to gain momentum. He said the interactive nature of NextRadio is "a very big draw" for people in their teens and 20s.

Uecker
"Those who say this is just about pushing the radio signal to the cell phone are missing the additional experience that this brings," said Uecker, who also is manager of the university-operated station WICR-FM 88.7.
NextRadio's research shows 20 percent of NextRadio users are millennials.
"They're our biggest audience," Brenner said. "Once we inform and educate [millennials] about NextRadio, they're quickly sold on it."
Courting advertisers
Advertisers are intrigued by NextRadio's potential.
"This is being seen as a very, very big positive for radio," said Terri Reilly, president of EchoPoint Media, the media-buying arm of Indianapolis-based ad agency Young & Laramore. "Everyone always has their cell phone, so this really increases radio's reach."
When NextRadio signed its deal with AT&T, Smulyan said, ad agencies "began calling us." Brenner thinks that will accelerate once T-Mobile comes on board.
"We've been talking to national ad agencies in the biggest markets and we haven't found one yet that hasn't fallen in love with this in five minutes," Brenner said.
NextRadio's interactivity allows stations for the first time to offer coupons and on-the-spot purchase opportunities to listeners. Revenue sharing from these new ads likely will be key in attracting and maintaining deals with cell phone providers.
While NextRadio agreed to pay Sprint a flat fee, it's sharing revenue with AT&T, with most of the money coming from ad sales. It's the same type of deal Smulyan and Brenner want to broker with other carriers going forward.
"They're selling that kind of deal as having a higher potential upside for cell phone companies, but it also limits [Emmis'] risks in terms of costs," said Robert Unmacht, a partner at iN3 Partners, a Tennessee-based investment banking consultancy focused on radio.
There's good reason that NextRadio is attempting this new type of advertising. Mobile advertising in the United States brought in $12.5 billion in 2014, a 76-percent boost from the prior year, according to New York-based Interactive Advertising Bureau. Another sizable increase in this category is expected this year, which should push it past the $17 billion brought in through traditional radio advertising annually in this country.
With the allure of AT&T and T-Mobile joining the fray with Sprint, NextRadio has been able to sign "beta" advertising deals with HHGregg, O'Reilly Auto Parts, Check 'n Go, and All-State Insurance Co.
The beta tests don't pay much, Smulyan admitted, but he added: "We're giving them something they've never seen before and we think it's only a matter of time before they realize the value in it."•
Please enable JavaScript to view this content.