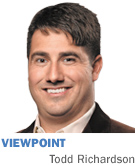 Disclaimer: What you are about to read runs counter to everything your employment-law attorneys have taught you, namely, "Don't get personal when managing employees." With all due respect to my employment-attorney brethren, it is time to rethink how you engage employees. You will unlock your full management potential and achieve maximum business success only if you get personal with your employees. Simply put: Care for the whole employee.
Strong and effective relationships—with employees, customers and vendors—are the motors that drive business. Too often, managers focus only on the professional aspects and discount what makes us truly unique: our lives outside of work. Effective relationships are formed when two parties "relate" to each other. Rapport is accomplished when said parties are able to find instances where they share experiences, approaches to work challenges, and even to life challenges.
Too often, managers focus strictly on the professional aspects of the employee, such as whether the employee has the technical skills to complete a task or whether the employee is operating as effectively and efficiently as is expected by some pre-set production guidelines. Clearly, those focus areas are important pieces to the manager/employee relationship, and to their professional relationship. However, focusing only on the acute professional needs of the employee wholly ignores those aspects of our lives that make us dynamic humans.
Building personal bonds is an often-ignored part of the holistic manager/employee relationship. A truly effective manager must forge relationships with employees based on professional and personal traits. Only when the manager relates to the whole person can the employee's full potential and loyalty be unlocked, ultimately enhancing overall business goals.
Of course, attorneys will tell you that the less you know and are engaged with an employee personally, the less risk you run of triggering an employment-law claim. They will tell you to run away from topics such as religion, health issues, and marital and parenting challenges. I would instead tell you to run to them.
Enduring relationships are formed when you care for the whole employee. You will achieve your long-term business goals more readily by having a loyal and engaged workforce, as nothing elicits engagement and loyalty more than personal connections.
My teams have adopted this care-for-the-whole-employee strategy for more than a decade, across multiple companies and with more than 7,500 employees. We have managed through problems involving mental and physical health, marital challenges, sexual orientation, personal financial troubles … the list goes on. Not only have I never had an employee bring legal action against me or the company, I have seen this approach pay off in high employee engagement and loyalty and, ultimately, business success.
While I advocate caring for the whole person, I also believe that general business principles (e.g., cost/benefit analyses) should govern how much attention should be paid to a particular employee. We all have had the employee who is a constant swirl of drama and non-value-added activity. Some employees cannot be helped or don't want to be helped; others are in need of so much help that if you were to invest in them, you would be neglecting other employees and business interests. The balance is not always easy.
So, yes: The bottom line is that managers must make judgment calls on when and how much to invest in and personally engage with employees. But—regardless of what your attorneys might tell you—avoiding all investment is a mistake.•
__________
Richardson, former executive vice president of administration at ExactTarget, is the entrepreneur-in-residence at FirstPerson, and founder and chief culture officer at Cadence Consulting. He can be reached at cadenceconsultant@gmail.com.
Please enable JavaScript to view this content.