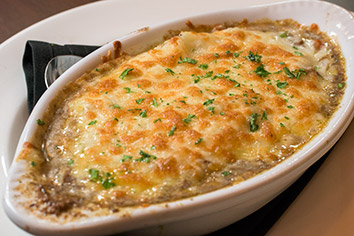 I haven't been to Ireland. So I can't say for sure whether Carmel's newly opened Langton's Irish Pub (710 S. Rangeline Road, 810-1352), which bills itself as an "authentic Irish pub" should feature video screens visible from nearly every seat.
I can, though, respect the reality that those 31 screens will help Langton's gather crowds to watch rugby and soccer—activities that seem as essential as what's on tap for American Irish pub success. During our visit, during non-game time, the volume on those screens was thankfully turned down.
Our plan wasn't to watch a match. It was to try a few pub staples (we were told the menu would be expanding over the next few weeks). Alas, the jersey-clad staffer and his trainee informed us that the kitchen was out of the Potato Leek Soup ($3.99/$5.99), so we opted for the thick Seafood Chowder ($4.99, $6.99 or $7.99 in a potato rosemary bread bowl), without regrets. Pub Wings ($9.99) offered ten wingette and drumettes with a choice of Buffalo or Irish Whiskey barbecue flavor. We went with the latter, of course, and the thick-but-not-dripping sauce was distinct without being overpowering.
Unfortunately, we were barely a few spoonfuls into the soup and a few wings short of the whole coop when our entrees arrived. Perfectly understandable if we had said we were on a tight lunch hour or had said we had a show to catch at the neighboring Palladium, but this was a leisurely dinner with no indication that haste was required. Even after a gentle comment about the speed, the trainer didn't seem to consider it a problem. Here's hoping the message to the trainee wasn't that such bad dining form is acceptable.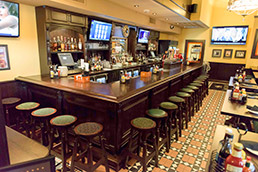 Langton's offers a comfortable bar and plenty of TV screens set for soccer and rugby. (IBJ Photo/ Eric Learned)
Despite the glitch, what showed up at our now-crowded two-top was satisfying (and the rest of the wings reheated fine at home the next day). Fish and Chips ($14.99) featured a long, thick piece of flaky Haddock with light-ish beer batter coating parked on a bed of house-made thin-cut potato chips. In addition to tartar sauce, the plate came with roasted garlic sauce to give the chips a boost and coleslaw, juiced with Tabasco sauce. And, of course, there's malt vinegar at the ready. Favorite for the table, though, was the Cottage Pie ($12.99). No surprises here—just a hearty casserole of ground beef and basic veggies with mashed potatoes as comforting as Langton's warm woodwork and friendly crew.
No room for dessert, but next time we might be more tempted by the Irish Whiskey Mixed Berry Cobbler ($6.99) with house-made streusel and vanilla bean ice cream or the Caramel Apple Cheesecake ($5.99) boasting a house-made Irish Whiskey Caramel sauce along with the whipped cream.
But just to be safe, I won't order it until I'm done with my entree.•
—Lou Harry
 
Please enable JavaScript to view this content.