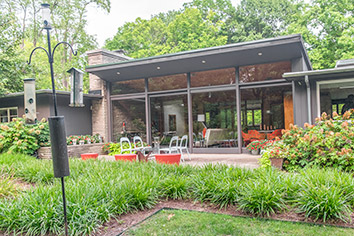 Architect Drew White, co-founder of Axis Architecture + Interiors, likes to surround himself with clean, spare designs in both his work and his private life. Appropriately, the home he shares with his wife, interior designer Patty Clark, and their son Max, 13, embodies the mid-century modern look.
"I'm 55 years old, so I'm mid-century myself," White said. "For some, it brings us back to our roots, growing up in the late '60s, early '70s. I think some of the design aesthetic at that time was interesting. And it's nostalgic to look back."
The couple's home on two wooded acres near Highland Golf and Country Club encapsulates the era's less-is-more design zeitgeist. Built in 1949 as a vacation getaway for a family who lived downtown, it received an addition in 2008 that increased its size by a third, to approximately 3,800 square feet.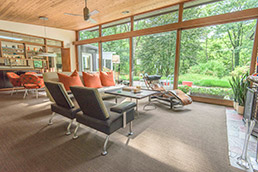 The living room is filled with collector-quality mid-century furnishings. (IBJ photo/Eric Learned)
True to its streamlined, functional aesthetic, everything's on one level, with no basement.
"We love it," White said. "Instead of thinking vertically, you think lineally."
One of the things the couple enjoys most about the home is the seamless melding of the 1948 structure with the 2008 addition, completed by former owners Matt and Jane Stegemiller. The original portion begins with the former master suite, which has been converted into a media/play room. It opens onto an expansive back patio overlooking woodlands that lead down to White River.
The original portion also includes a guest bedroom and Max's bedroom, which also opens onto the patio.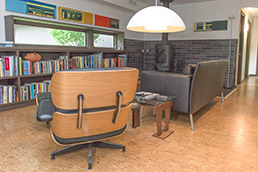 A den with a Norwegian-made rotating metal fireplace. (IBJ photo/Eric Learned)
"As he gets older, I'm sure he'll spend more time there, away from us," White said. "But right now, he still likes us."
A cork-tiled hallway leads into the home's combination entry, living room, dining area and home office–an "open concept" floor plan created decades before the phrase was coined. A limestone fireplace dominates the northernmost wall, while four massive windows overlook the outdoors. Two of them can slide open, creating a massive indoor/outdoor space.
The office area, with a large window overlooking the front yard, includes desks for both White and Clark.
The entire living/dining/office space is filled with collector-quality mid-century furnishings.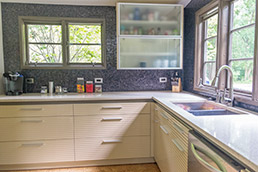 The kitchen nixes cabinets in favor of windows. (IBJ photo/Eric Learned)
The home transitions from its "old" to "new" section in the long, narrow kitchen, which retains some of its 1949 counters and cork flooring, but also boasts stainless steel appliances and copious storage space.
Almost all that storage consists of below-the-counter drawers, freeing the walls for windows.
"Everything is below. It's easy to get to," White said.
The kitchen adjoins a large, book-lined den featuring a cylindrical metal fireplace. Made in Norway, it can be rotated, and generates so much heat that the couple felt the need to light the living room's massive conventional hearth only a couple of times last winter. Next to the den sits a large screened porch, accessible by a wall of foldaway glass doors.
"The architect's intention was to have the den and the porch act as one space when it's appropriate," White said. "We entertain in this area a lot. People love to be out here in nature."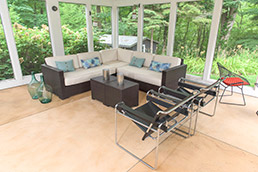 The house was built in 1949 as a vacation getaway, but has been added onto with respect for its clean, spare aesthetic. (IBJ photo/Eric Learned)
The home's addition ends with a high-ceilinged master suite equipped with a large bathroom and walk-in closet.
The couple was so satisfied with the house that they've made very few changes. Perhaps the biggest was adding central glass panels to most of the interior and exterior doors to let in more light. At some point, they plan to replace a dilapidated shed with a studio and repaint the dark gray exterior, but other than that, they're happy with the arrangement.
Though the three-car garage is a bit problematic.
"When we work with our clients, we try to convey that less is more, and that the car should not be motivating our desires," White said. "But we live in a city where you have to use a car to get around. It's somewhat embarrassing, but we love it."•
Please enable JavaScript to view this content.