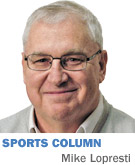 Here in Indiana, the 21st century hasn't been all a bowl of cherries for the state's major football programs. Let's see, Purdue has lost 28 of its last 30 games against Associated Press-ranked opponents, and is 4-20 overall the past two seasons. Indiana's Big Ten record since 2008 is 9-47, and its last winning season in league play was 1993. Ball State had a big season in 2008, going 12-2, but in one year went from there to 2-10, performing a reasonable rendition of the cliff divers of Acapulco.
That leaves Notre Dame. The century has included a run to the national title game—where, alas, Alabama was waiting—but also the aborted reigns of Bob Davie, Tyrone Willingham and Charlie Weis; Manti Te'o's imaginary online girlfriend; and losses in Knute Rockne's house to the likes of Connecticut, Tulsa and a 2-8 team from Syracuse—on Senior Day.
But why rain on the new season with dark memories? This weekend brought the 2015 openers, with their fresh promise. The most discouraging preseason cloud for Indiana and Purdue fans has been the thought of how they're going to navigate road construction on the way to Bloomington or West Lafayette. The best suggestion would be to leave early—in a helicopter.
So to keep with the new hope motif for the early season, and to show what can happen when planets align, we revisit not bad days, but good ones. Here's one version of the most special dates this century for Indiana's four FBS programs.
Indiana: Sept. 20, 2014
Missouri was headed to an 11-3 record and the title in the SEC East, arguably the most arduous division in America this side of the SEC West. Indiana was headed to 4-8 and last place in the Big Ten East. The Tigers were 3-0 and No. 18. The Hoosiers had just given up 45 points in a loss at Bowling Green.
But it happened. Indiana, 31; Missouri, 27. D'Angelo Roberts' three-yard touchdown run with 22 seconds left was the winner, but the key was zero Hoosier turnovers. The previous 47 consecutive Missouri opponents all committed at least one.
"We're the same group of bums that played last week," Coach Kevin Wilson said, referring to the bad day at Bowling Green. It was the first road win against a top-20 opponent for Indiana in 17 years. Hard times were to come, but on that day, the Hoosiers were better than an SEC heavyweight. How often do they get to say that?
Purdue: Oct. 28, 2000
With 2:16 left against No. 12 Ohio State, Drew Brees had thrown yet another interception—his fourth of the day—to set up an easy go-ahead Buckeye touchdown. The No. 16 Boilermakers' road to the Rose Bowl had just curved into a swamp.
But only for 21 seconds. On a play that was one-part lightning bolt, one part Bobby Thomson home run, Brees hit Seth Morales for a 64-yard touchdown to save the day, and the season, and anyone who had already bought non-refundable airline tickets to Pasadena. It was the Shot Heard Round the Purdue World.
"I guess I redeemed myself," Brees said after 455 passing yards in a 31-27 win. The Boilermakers had lost seven consecutive games to Ohio State, and this streak-breaker came with a huge bonus: Two months later, they were in the Rose Bowl.
Notre Dame: Oct. 27, 2012
The Irish were 7-0 and starting to think national championship, but they were headed where winning streaks went to die. Oklahoma was 79-4 at home in the Bob Stoops era, and the No. 12 Sooners were eager to put the Notre Dame echoes back to sleep.
Didn't happen. Not even close. With 177 passing yards from freshman Everett Golson and a key interception from Te'o, the Irish rolled over Oklahoma 30-13. The nation knew Notre Dame was serious after that day. Didn't faze Alabama much, though.
Ball State: Sept. 20, 2008    
Ball State had never beaten a Big Ten team. Indiana had not lost to a MAC opponent in 31 years. History was clear on what should happen. 
History whiffed. By a lot. With 166 rushing yards and four touchdowns from MiQuale Lewis, the Cardinals ran past, through and over the Hoosiers for a 42-20 rout in Bloomington. They were on their way to a 12-0 start, and one of the finest seasons in school history. It would have been a perfect day for Ball State, if not for star receiver Dante Love's career-ending neck injury.
Beating Indiana turned out to be like eating peanuts for Ball State. The Cardinals couldn't stop at one. They would do it three times in five years.
So there have been magical days for the state schools this millennium. Just not a lot. But it's early September, and everyone has the right to believe that this is the season something special happens. Maybe.•
__________
Lopresti is a lifelong resident of Richmond and a graduate of Ball State University. He was a columnist for USA Today and Gannett newspapers for 31 years; he covered 34 Final Fours, 30 Super Bowls, 32 World Series and 16 Olympics. His column appears weekly. He can be reached at mlopresti@ibj.com.
Please enable JavaScript to view this content.