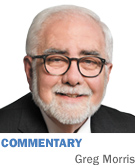 I joined BlueIndy for a year.
If you don't work downtown or in the surrounding areas where the electric-car-sharing service BlueIndy has stations, you might have tuned out all the news about this new concept. I've been watching the construction of charging stations and following the political fighting with great interest.
I recommend you read, if you haven't already, IBJ reporter Hayleigh Colombo's front-page story "BlueIndy's big gamble" from the Aug. 31 IBJ. Her story will give you an excellent overview of the challenges BlueIndy is facing as the service is launched and the company seeks widespread adoption of the car-sharing concept here in Indianapolis.
I'm a supporter of the BlueIndy endeavor. Why? I believe the concept has a real chance to succeed here and that it will be good for the city. I see it as a small part of filling a need for more transit options to move people around Indianapolis. Instead of criticizing and stiff-arming Bollore Group, the French company that is investing $41 million in this project, I prefer to say, "Thank you for choosing Indianapolis to launch your car-sharing concept in the United States. I hope others here see the value of your service and that your return on investment meets your expectations."
Thanks to Mayor Ballard and his staff for their efforts in getting this deal done despite attempts by a sometimes hostile City-County Council to undermine it. The fact that the city had to chip in only $6 million is a bargain in this partnership. And thanks to IPL for kicking in $3 million to help make it work.
I just signed up for a year of the service at the early-bird rate of $9.99 a month, with each trip costing $4 for the first minute and 20 cents for each additional minute. And, I got my first six months free. I encourage others to sign up and give the service a try. You don't have to sign up for a year. You can purchase a membership for a day, a week or a month. However, with shorter membership lengths, the per-usage rates increase.
I've been thinking about when I might want to use the BlueIndy service. For example, I'm thinking of a lunch appointment on Mass Ave, in Fountain Square, in Broad Ripple or similar spots where parking can be a challenge.
I have a BlueIndy station steps from my office downtown. Let's say I need to meet a client for lunch who's coming from Carmel. I suggest we meet halfway, at the Broad Ripple Brew Pub at noon. I know there is a BlueIndy station close to the pub because owner John Hill supports the concept and the charging stations close to his front door. (I can also find station locations and car availability via an app on my phone.)
So, I jump in a BlueIndy car and run up to the Broad Ripple Brew Pub and dock the car while eating lunch. I check out a car when leaving and come back downtown and park back in the station across from my office. That trip should cost me about $8. I don't have to worry about gas, wear and tear on my car, or finding and paying for a parking space. This sounds like a good deal to me, and I can think of dozens of other scenarios in which car sharing would make a lot of sense.
I didn't mention the benefit of using a clean-energy vehicle and the benefits derived from reduced fossil-fuel emissions from my vehicle. While this is a big benefit for many concerned environmentalists, that's not what floats my personal boat. I'm more interested in reducing our dependence on foreign oil. That's my driver for wanting to use less gasoline.
Whatever your motivation, I hope you'll give BlueIndy a try and see if this is a service that can benefit you. Tune out the politics. All that noise is meaningless in the grand scheme of things. Widespread adoption of this type of service, combined with other efficient forms of transit, is good for all of us.•
__________
Morris is publisher of IBJ. His column appears every other week. To comment on this column, send e-mail to gmorris@ibj.com.
Please enable JavaScript to view this content.