When Tyler Collins minored in unmanned systems—or drones—at Indiana State University in 2011, it helped him land an internship at drone-manufacturing startup PrecisionHawk in 2013.

It also helped him attract a job offer from the company before he graduated.

Indiana State "knew how to mix flying [drones], collecting data and doing something with that data, which really set me up for success," said the 24-year-old Collins, who is now vice president of business development at the 80-employee, North Carolina-based company.

Indiana State was among the first universities in the country to offer a minor in unmanned systems, and even launched a drone research center, all with the goal of feeding the burgeoning drone industry with folks like Collins.

Now, as federal regulators loosen drone restrictions, the oft-overlooked Terre Haute-based school is beefing up its drone prowess further, adding an unmanned-systems major last month.

"It's still pretty early in the technology, and the fact that they're getting involved shows that somebody there is forward-thinking," said Michael Most of Kansas State University, another school in the rare company of those offering drone degrees.

Drones have been used by the military for decades, but domestic interest heated up after Congress in 2012 told the Federal Aviation Administration to craft drone rules for widespread, non-military use. Trade associations eager to commercialize drones have cited search-and-rescue missions, newsgathering, and package delivery as potential uses.

In May 2014, the FAA said commercial entities could apply for exemptions to its drone restrictions while the agency finalized rules. Since then, roughly 1,000 operators have received so-called Section 333 exemptions, according to the Association for Unmanned Vehicle Systems International. Those operators listed purposes that include real estate, agriculture and utility inspection.

"The flood of commercial exemption requests to the FAA shows that a mature [unmanned aircraft system] commercial market is waiting to be unleashed," the trade group said in a June 2015 report.

Indiana State hopes to be a top destination for students looking to get into that market—and for employers hungry for talent. Its professors have presented at industry conferences, forged partnerships with public- and private-sector entities interested in drones, and participated in national task forces aimed at molding drone curriculum. The program has won grants to purchase drones and to fund research on commercial applications.

Baker
"We were looking for something that would give us an area of research that would make us a little unique," said Richard Baker, who chairs the aviation technology department at Indiana State and pioneered the drone program.

"Three to four years ago, this was all new and expanding," he said. "We had no idea where this would go when we started."

Indiana State, which serves a high population of low-income and first-generation students, has historically been known for educating teachers.

"The aviation and unmanned-systems programs are starting to surpass that," Baker said.

Indiana State is one of at least six U.S. universities to offer a four-year drone degree. Others are Embry-Riddle Aeronautical University in Florida, North Dakota University, Kansas State University, LeTourneau University in Louisiana, and Lewis University in Illinois.

A couple of dozen post-secondary institutions offer minors or associate's degrees in unmanned systems, according to industry observers and crowd-sourced lists of drone schools. The University of Missouri, for instance, offers drone training to some of its journalism students.

Baker said his school's degree is unique in that it covers air, land and water drones that use remote operators.

"If you look at precision agriculture, for example," Baker said, "you may get to the point where you have an aerial system over the field looking at areas that need more nutrients communicating directly with a vehicle on the ground that adjusts nutrients as it sprays the field."

So far, about 60 students have earned a drone minor from Indiana State, including those majoring in aviation, criminology, geology and other programs. Nearly 145 are in the pipeline.

About 15 students are enrolled in the new major. The school estimates it will draw roughly 80 students over the next five years. Average starting salaries for graduates are in the $60,000 range, Baker said.

Growing reputation

Collins, of PrecisionHawk, said the company has about seven Indiana State graduates on staff and that it routinely contacts the school about its top matriculating students.

He said the alumni so far have been great assets not only for their aviation chops, but also for their communication skills and business acumen.

"They're not just teaching them how to be pilots," he said.

Collins said Indiana State has built its reputation by recruiting experienced professionals as professors, including military veterans familiar with unmanned systems.

Hauser
Jeff Hauser, executive director of Terre Haute International Airport–Hulman Field, is one such example. He spent time with the 181st Intelligence Wing at the Indiana Air National Guard before becoming a professor at Indiana State in 2011. He was involved in the successful effort to get the school FAA approval to test drones at the Terre Haute airport.

That allows ISU to test winged drones that need runways, as opposed to helicopter-type drones that can ascend and descend vertically. The approval is also special because even operators with Section 333 exemptions can't fly within five miles of an airport.

"We're looking at the future," Hauser said. "Some of these aircrafts are going to need to be able to take off and land at an airport."

Even with the four-year degree, the think tank research center and the hands-on training, Indiana State's name doesn't ring bells in the drone industry the way Embry-Riddle or Kansas State does, according to industry observers. Drone-program officials at those schools said they weren't very familiar with Indiana State, but noted that any university entering this space is poised for prolific growth.

"We've gone from six students in a minor to 228 students [in the major] enrolled in the fall semester," said John Robbins, program coordinator for Embry-Riddle's four-year drone degree.

But the word about Indiana State might be spreading. Mario Mairena, spokesman for the Association for Unmanned Vehicle Systems International, noted that the school ranked third on a widely cited "15 Best Drone Training Colleges" list produced by successfulstudent.org.

Reached by email, the site's editor, Jake Akins, said Indiana State's national recognition should increase "once the full bachelor's degree has been in place for a while."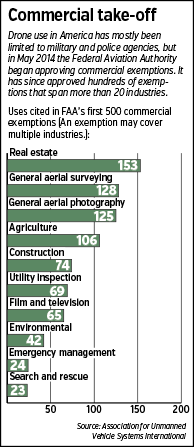 The horizon

Earlier this year, the FAA unveiled rules for small drones—55 pounds or less—but has yet to hash out regulations for larger ones. The small-drone rules are in a public feedback period; observers expect final rules to be issued within a year.

For now, the smaller drones can fly up to 500 feet, can't operate at night, and have to remain within the line of sight of the operator, the FAA said. Trade groups and industry advocates said that represents a good first step, but they hope some of those restrictions end soon.

"Companies are wanting to go beyond the visual line of sight and they should be allowed based on a risk-based approach," Mairena said. He added that some of the limitations are "unnecessarily restrictive" and hamper innovation.

While regulators work out the kinks, several companies are trying out drones to improve their businesses. Of the first 500 commercial exemptions approved by the FAA, California laid claim to the most, with 70.

Indiana had only 13 exemptions, but 41 other states had fewer, according to the association. Operators in Indiana said they planned to use their exemptions to fly drones for real estate, aerial photography and construction.

Baker said he expects the drone industry to generate 110,000 jobs in the next 10 years and grow from a $3 billion industry in 2013 to $110 billion by 2025. He said he anticipates that his graduates will be sought by not only drone companies, but also insurance companies, utility companies and others.

He said the public tends to think of drones as toys or privacy-breaching devices, but that the perception will change in time as "people begin to see the true benefits of mobile robots to help in dangerous or dull [routine] tasks and to act as remote eyes, ears and hands of people conducting business tasks."•