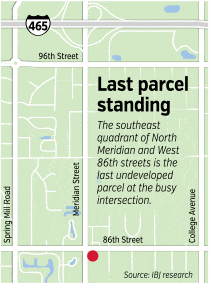 A Missouri-based development team wants to build a $10 million senior living center on the last available parcel at one of the north side's most visible intersections.
St. Louis-based Stonecrest Senior Living and suburban Kansas City-based Northpoint Development have filed with the city to construct the 85-unit facility on 4.8 acres of wooded wetlands at the southeast corner of West 86th and North Meridian streets.
But gaining the support of neighbors and mitigating severe drainage issues that for decades have deterred development on the prime site might prove difficult.
Even in dry periods, the land is typically swampy from past rains, and building on the site could dump storm-water runoff into the residences to the south, neighbors say, unless drainage is built properly.
"It can be done, but I just don't see how, money-wise, that it makes sense," said Josh Zapf, who lives just to the south on North Meridian. "I think that's why everyone has backed off" buying the parcel.
The site already is zoned for residential use, and an assisted-living facility fits the use.
Even so, neighbors prefer a residential development that's more compatible with the condominiums and town homes on the other three corners of the intersection, said Ruth Hayes, president of the Nora-Northside Community Council.
"This is a unique piece of property," she said. "It needs to be developed properly because of the importance of the 86th and Meridian street corridors."
The city's comprehensive plan considers the intersection a gateway to the city and important enough to deem it a "critical area," which means it either exhibits an unusual characteristic or is an important enough location to warrant stiff scrutiny.
Plans for Stonecrest at Meridian Hills show the two-story building would contain 55 assisted-living apartments and 30 memory-care units, and would be clad in brick, masonry and wood or cement board siding.
"It's a very high-end-designed facility," said Brian Tuohy, a local attorney for the developers. "It seems to me to be compatible with the other three multifamily uses on the other three corners."
The architect for the project is Kansas City-based Rosemann & Associates.
Representatives of Stonecrest and Northpoint either couldn't be reached for comment or didn't return phone calls.
The firms have the site under contract and are paying roughly $3 million, real estate sources said. Local residential brokerage Mirkin Real Estate Services LLC is listing 2.3 acres at the north end of the property for $1.6 million.
The acreage is part of 11 lots the developers are seeking to buy from three different landowners. The owners are Los Angeles-based Davidson Trust Realty LLC; Lillian F. Fox of Northbrook, Ill.; and a local group consisting of Aristea Pappas, Angelo Kokenakis and Kay Govostis, city records show.
The entire property has been on the market for years and has attracted interest from potential buyers, most recently Leo Brown Group LLC.
But the Indianapolis-based health care and senior-living developer quickly chose to pass on the parcel for several reasons: poor drainage, the already busy intersection and the risk of upsetting neighbors, said Mike Wagner, a company vice president.
"We looked at it for a second," he said, "but there are a ton of challenges on that site."
Leo Brown Group instead chose a site about a mile and a half west on 86th Street near St. Vincent Health and is set to break ground on the 120-unit assisted-living and memory-care community by the end of the month.
Now, Stonecrest and Northpoint will try to convince neighbors their project works for the intersection. And that's important. Gaining support from neighbors typically helps win city approval for a project.
The Nora-Northside Community Council has yet to take a position on the project and still is waiting for the developers to present plans to address members' concerns. A request for a continuance filed by Hayes will likely push consideration of the project to the Metropolitan Development Commission's meeting Oct. 21.
Besides the drainage problems plaguing the property, neighbors are most concerned about tree preservation, lighting and access to the site, because medians on 86th and Meridian streets would limit it to only right turns in and out of the complex.
"They need to really, really work to make it fit into what's considered a critical area," Hayes said.
The neighbors who would be most affected live on the west side of Pennsylvania Street, adjacent to the property, in the Pennsylvania Heights neighborhood, where homes can fetch from $350,000 to $750,000.
The developers' proposal to build Stonecrest at Meridian Hills wouldn't be affected by a three-year state moratorium on nursing home construction that took effect in July because the law pertains only to skilled-nursing facilities.
Established nursing homes lobbied for the ban because of what they perceived to be declining occupancy.
Memory-care units, though, are in high demand, said Zachary Cattell, general counsel of the Indiana Health Care Association and Indiana Center for Assisted Living.
Skilled-nursing facilities, or nursing homes, offer care for residents who need rehab services or who suffer from serious or persistent health issues; memory care offers services for memory diseases like Alzheimer's and dementia.
"Because of the aging population, it is a service that is becoming essential in senior-housing developments," he said.
It's unclear how many senior-housing projects Stonecrest has developed, as little information is available online about the company. It is planning to build a $27 million, 95-unit facility in St. Louis.
Northpoint is mostly a developer of industrial and multifamily projects, according to its website.•
Please enable JavaScript to view this content.