SmarterHQ, an Indianapolis software firm, is quietly becoming one of the area's top destinations for venture capital, fueled by surging sales for its personalized marketing software.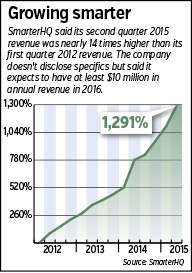 The 5-year-old company has secured $22 million since the beginning of 2014, $15 million of which was equity financing, according to public filings. Only three other Indiana tech firms have raised more in that span.
For much of the past two years, quarterly revenue has nearly doubled on a year-over-year basis. SmarterHQ expects sales in the high-seven-figure range this year and is on track to top $10 million by the end of 2016, company officials said.
The company, which targets retailers, attributes its success to a growing demand for sophisticated marketing software that tailors messaging based on a customer's past and expected behavior.
Having software that sends automated emails to customers who abandon their online shopping cart, for instance, is simple, SmarterHQ CEO Michael Osborne said. But software that understands when retailers are on the verge of losing their biggest spenders or that predicts a customer's next purchase is becoming more coveted.

Osborne
"We're acquiring customers left and right—big names," Osborne said in an interview, "and that's because those big names haven't done these things before and they need to, and they know it."
Analysts at Massachusetts-based Forrester Research Inc. said companies are moving toward personalized marketing, which is known in the industry as contextual marketing. But implementation has been difficult, so Forrester expects vendors like SmarterHQ to develop software to help.
"To date, marketers' desire to personalize campaigns, products, offers, interactions, and content have, at best, resulted in cohort- or segment-based approaches to customer engagement," Forrester said in a November 2014 report.
"True personalization at the individual level remains elusive for most marketers, who face data management, analytics, measurement, and execution challenges."
SmarterHQ believes it's poised to be a market leader in contextual marketing. Company executives said dozens of companies offer marketing software, but few can perform sophisticated analyses of granular customer data and predict behavior.
When marketers search for software vendors, the big players include Salesforce, whose marketing-cloud division is based in Indianapolis, as well as Adobe and Oracle. SmarterHQ said it's increasingly a part of those conversations.
"We don't always get invited because we're not the obvious choice," Osborne said. "But when we get invited and have to compete with folks like that, we often do well in those sales cycles."
SmarterHQ executives said their software can, for instance, connect disparate data points to determine the style of shirt a person likes and what he or she is likely to pay for it. It will then send an email suggesting shirts only in that price range.
The firm said its platform can also determine when a person is likely to buy after browsing. Dean Abbott, SmarterHQ's chief data scientist, said if a retailer knows a person is likely to buy three days after browsing the website, that information can dictate the retailer's messaging.
"One thing it might do is make marketers say, 'Let's get out of his way. If he's going to purchase, let him do his thing,'" Abbott said. "But what if he doesn't purchase? Then that may be the time for the retailer to step in and provide some incentive to bring him back."
SmarterHQ was co-founded in 2010 by Abbott and Angel Morales, its chief information officer. The company spent the first few years building out its predictive software and has lately been ramping up its marketing and sales efforts. It employs 72, up from 24 in February 2014, and has 85 clients, including Finish Line and Bloomingdale's.
SmarterHQ's annual contracts range from $50,000 to $600,000.
Massachusetts-based Battery Ventures has been SmarterHQ's main-venture capital investor, although Simon Venture Group, affiliated with Indianapolis-based Simon Property Group, contributed to the $8 million SmarterHQ raised in July. Battery has also backed ExactTarget and Groupon, which became public companies, as well as Wayfair and Hotel Tonight.
Osborne said the company doesn't disclose specific revenue, but pegged it at much more than $5 million this year and at least $10 million by the end of 2016. SmarterHQ has grown revenue every quarter since early 2012.
Despite its success, SmarterHQ is likely to have a tough time standing out. Osborne said he doesn't think any other company offers software as sophisticated as SmarterHQ's, but lots of companies claim to. He said it would actually help to have a direct competitor.
"It's easier when you've got one person to go after, when you've got one to fight with," Osborne said. "You get really good at fighting them."
Nathan Watson of Nebraska-based Contemporary Analysis, a predictive analytics firm that serves businesses, political campaigns and other organizations, said the contextualized marketing software niche is heating up, but that the "ones with the edge are the ones using data scientists to predict who inside of a group of people have the propensity to buy."
Kevin Lindsay, head of product marketing for Adobe's personalization software, called Adobe Target, said the increasing numbers of contextual marketing vendors isn't necessarily a bad thing, especially for larger companies that like to test new technologies.
"A lot of the big brands have room to experiment and have people that will evaluate technology on an ongoing basis," Lindsay said. "And I think it's really smart to do that, to be always looking at the new, innovative young startups in the technology space that are keeping us all honest and raising the bar in terms of some of the cool things you can do."
Osborne, 39, was previously chief revenue officer at Austin-based Bazaarvoice. He was there as the company grew annual sales from less than $1 million to more than $130 million over seven years. The firm went public in 2012.
He started working with SmarterHQ in spring 2014 as a consultant, joined the company as president that fall, and succeeded former CEO Howard Bates in January.
Bates, in his 60s, came under scrutiny over a 2013 conflict-of-interest scandal involving a public-private venture fund, but he said the incident had no bearing on his decision to step down; he remains executive chairman.
Osborne said taking the company public is not on his radar anytime soon, though he does want to grow SmarterHQ to the point where it could stage an IPO, raise a large amount of private-equity money, or have other options to finance growth.
"In order to [have options], we have to be a leader in our space. We have to be absolutely killing it on our goals," he said. "We have to have a solution that fits. We have to deliver tons of value for our customers. If we do all those things, it's our choice."•
Please enable JavaScript to view this content.