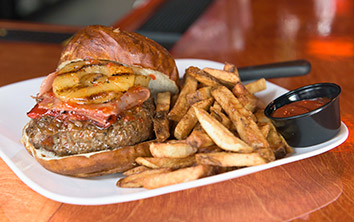 Looking for a place to have a low-key lunch conversation? You've got plenty of choices in Fountain Square.
Want to eat a massive burger while your pulse is pounded by Metallica's greatest hits? There's only one place to go for that.
The 10 oz. burgers at Kuma's Corner (1127 Prospect St., 929-1287) are mighty and its menu not subtle. "There are NO Vegan Options" it assertively states. And the cryptic comment, "No. There are no waffle fries. There will never be waffle fries. Ever again" raises a question that is perhaps best not asked. Even the simplest of the 16 burger options comes with bacon and a fried egg. The casual, friendly staff could double as a tattoo exhibit.
I'm not sure what we were thinking by ordering an appetizer, but we went with the Fried Pickles ($7) based on the server recommendation. The spicy, crispy Panko breading was terrific, but it covered paper-thin pickles whose flavor was lost in the process. They did manage to keep us busy during the long wait for entrees, though. It's understandable that burgers this big take a while to cook, but our late-lunch visit stretched to almost two hours. Be warned if you are taking a run from downtown for a lunch break.
The burgers—each of which might qualify as a dare-you challenge at other burger joints—were worth the wait.
There's the High on Fire ($13), in which prosciutto and grilled pineapple highlight the second story, where they are joined by sriracha hot sauce, roasted red pepper and sweet chili paste. The pretzel bun, soft to assist in gripping, manages to complement rather than step on the flavors. Neurosis ($13) came topped with horseradish mayo, cheddar, Swiss and jack cheeses, caramelized onion, sautéed mushrooms, lettuce, tomato and onion. If you want to rationalize, you can pretend those last few toppings constitute a salad.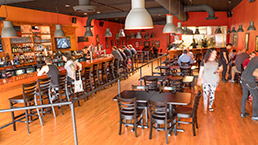 Kuma's first outside-of-Illinois outpost is in Fountain Square. (IBJ photo/Eric Learned)
Not enough for you? Then consider The Slayer ($15), a mountain suitable for three-way sharing or taking home for a few extra meals. The base is a bed of house-made fries (that remarkably didn't get too soggy by the time they reached us). On top of that is parked a complete burger, chili, cherry peppers, caramelized onions, andouille sausage, shredded Monterey Jack cheese and green onion. The burger patty itself is huge, but it's almost dwarfed by a massive pile of chunk-filled chili. The peppers and sausage provide plenty of heat without sending it over the top.
Even away from the burgers, the portions are monstrous. The Pig Destroyer ($12), for instance, offered a respectable slow-cooked pulled pork sandwich in a dominant barbecue sauce. Other options include a Make Your Own Mac and Cheese in which $14 gets you the basics plus two from a list of add-ons (including prosciutto, bacon and sweet corn) with another $2 for every additional item.
The restaurant is the first Indiana outpost for the multi-location Chicago eatery. The fact that it opted to park in Fountain Square rather than Carmel, Fishers, Avon or even the central part of downtown says something about the self-awareness of the place, the growth of Fountain Square, or both.
Oh, and if you are lunching at Kuma's, don't expect to get much work done in the afternoon. Or to eat dinner that night.•
—Lou Harry
 
Please enable JavaScript to view this content.