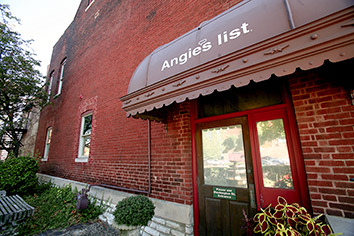 Scott Durchslag, the newly hired president and CEO of Angie's List, sees his mission as turning around the company by "fixing the fundamentals" and shifting how the company thinks about e-commerce.
He'll attempt that as Angie's List faces criticism and activist investor pressure over its business model, talk of potentially selling the company, rising competition from the likes of Amazon and Google, and a struggling stock price.
"It's my first day. I don't want to be presumptuous and tell you I have all the answers," the former Best Buy executive said in an interview with IBJ on Tuesday morning. "But I'll tell you the way I think about it. Priority No. 1 is fixing the fundamentals to be able to deliver the best experience possible with the current [assets]."
Durchslag started the job Tuesday, assuming the reins from interim CEO Mark Howell and succeeding former CEO Bill Oesterle, who stepped down July 1 after 16 years in the position.
Durchslag has more than 20 years of technology experience, the company said, including leading e-commerce and mobile technology initiatives at places like Expedia and Skype. He most recently was president of e-commerce and marketing at Best Buy, the Minnesota-based chain of roughly 1,400 consumer electronics stores.
Blake Harper of New York-based Topeka Capital Markets, said, "Given his background, he seems to be the type of person hired to execute a turnaround, not a sale of the company."
Harper also said Durchslag should "accelerate product development, especially on mobile, and improve the e-commerce experience."
For years, the reviews company has sold memberships to consumers and advertising to service providers, but recently it's tried to become a marketplace that brokers transactions between the two groups and gets a cut.
The hiring of Durchslag comes as Angie's List faces criticism from shareholders and competition from major players. Activist investor TCS Capital Management LLC recently increased its holdings to 9 percent of the firm and reiterated that it wanted to explore options to maximize the company's value, including a sale.
Also vexing are persistent losses. Angie's List has reported a profit in only four of its last 19 quarters, helping to depress a stock price that reached as high as $28 in July 2013. In addition, online behemoths Google and Amazon have been trying to get in the business of connecting consumers with service providers. Angie's List is locked in a legal fight with the latter over alleged computer fraud and misappropriation of trade secrets.
Angie's List shares traded around $5.25 at noon Tuesday, up about 4.2 percent for the day.
Rohit Kulkarni, an analyst with RBC Capital Markets in San Francisco, said Durchslag's appointment is a positive development for the company, partly because of his track record.
"Getting an external candidate with a track record like his was key for getting fresh blood and new thoughts on the way this company needs to [operate] over the short term and long term," Kulkarni said.
Durchslag should be clear and direct, he said, about the company's ambitions for its marketplace for transactions between members and service providers.
"So far, the strategic steps appear to be half-hearted," he said.
Durchslag, 49, said Angie's List is in good position with its roughly 3.1 million members and 53,000 service providers in more than 250 U.S. markets.
But it needs to do what it's been doing "faster, easier, richer and more fun."
Durchslag said he intends to grow the company's e-commerce platform, but not stop there. He said he wants to build an ecosystem that sees "innovation coming not just from the engineers at Angie's List, but you've got other developers, partners, customers and service providers all contributing in a way that unlocks the flywheel of an engine."
Analysts said the company's membership model has hampered the growth of the marketplace model, as the paywall deters non-members from using the platform. Kulkarni said the company should dramatically ease the paywall. Harper said Durchslag would do best by "expanding the reach of the platform to as many non-members as possible."
Durchslag said it's too early to specify what will happen with the company's membership model. He said when he arrived at Skype in 2008, one of the company's challenges was turning a free service into a service that draws revenue from customers.
"It's a lot easier to start to find different membership tiers when you have a paying base than it is to go the other way when everything is free and the consumers are acclimated," he said.
"So I think there's a lot to be thought through. We'll be looking at that closely." 
Please enable JavaScript to view this content.