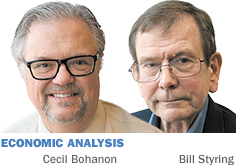 "Those who cannot remember the past are condemned to repeat it."
—George Santayana

Few things have been as resilient as the governmental itch to dictate prices. Is the public upset by high prices for the things it buys? Pass a law mandating lower prices. Would the public like more money for the labor it provides? Pass a law dictating higher wages.
You'd think they'd learn. We've had about 38 centuries of governments trying this stuff. Prices set below what a free-exchange market would determine result in shortages. Above-market prices produce unsold piles of surpluses.
Circa 1750 B.C., King Hammurabi in ancient Mesopotamia decreed prices for everything from how much grain a substitute herdsman must be paid for tending a flock to what a lawyer could charge for taking a case to court. Archaeological evidence indicates what King Ham actually got was chaos.
Down through history, rulers have repeatedly succumbed to this temptation. The latest tragicomic case is Chavez/Maduro-led Venezuela. The oil-rich country is short of the most basic needs—food, diapers, even cleaning supplies such as soap. People queue up in lines reminiscent of the old Soviet Union. The public is told low, controlled prices are a wonderful thing. Except at those prices there isn't much to buy.
Of course, the politicians can never admit it's their own meddling that is the cause. Maduro blames farmers. They are "profiteers" and are "withholding supplies."
Evil foreigners are also a favorite whipping boy. Colombian smugglers are blamed for a flourishing black market.
Government always makes a hash of things because it has no way of replicating the economic role of price. Prices are how we signal one another. Higher prices tell producers, "We want more." Higher prices also tell consumers, "Find substitutes." Each of us gives and receives zillions of these buy/don't buy signals every day. Every time you visit a drugstore, you're saying something by buying your favorite toothpaste and not buying the thousand other things offered for sale. Price controls keep these signals from working.
No bureaucracy can ever mimic how we relentlessly and democratically vote with our dollars. After 3,800 futile years of trying, you'd think they'd learn.•
__________
Bohanon is a professor of economics at Ball State University. Styring is an economist and independent researcher. Both also blog at INforefront.com. Send comments to ibjedit@ibj.com.
Please enable JavaScript to view this content.