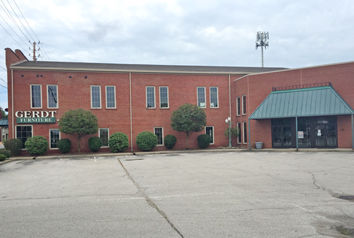 A south-side dental-claims-processing company plans to spend $3 million to renovate space in a building in Southport that last housed a Gerdt Furniture store.
Renaissance Electronic Services, founded in 2002 by Delta Dental Plans of Indiana, Michigan and Ohio, is the second-largest dental claims company in the country, processing more than 65 million transactions annually.
The Gerdt store at 2115 E. Southport Road will be Renaissance's sixth location. It hopes to move in by spring.
Renaissance plans to lease 36,000 square feet, or more than half of the 66,000-square-foot building. It housed the flagship Gerdt Furniture store until December 2012, ending a 54-year run for the business.
A Gerdt store in Castleton that opened in 1986 also closed in 2012. A family dispute involving the owners of the furniture store led to a lawsuit accusing them of owing nearly $4 million in unpaid rent and loans.
The building in Southport that Renaissance will occupy now is owned by the real estate firm Randy Faulkner & Associates Inc. in Greenwood.
"I remember shopping that building as a child," said Erick Paul, 45, president of Renaissance and a Whiteland native. "We were looking at a couple of different properties, and it became available."
Delta Dental Plans recruited Paul to launch Renaissance from his job as chief marketing officer of Atlanta-based American CareSource Holdings Inc., which operates primary and urgent care centers. He earned a bachelor's degree from Franklin College in 1990 and an MBA from the University of Indianapolis in 1993. 
He started Renaissance from his garage in Martinsville. The company has 230 employees and expects to add 150 jobs in the next four years that will pay an annual salary of $75,000 to $110,000, Paul said. Many of the additions will be software development and programming jobs.
Including all six locations, Renaissance will occupy a total of 80,000 square feet of space on the south side. The company will spend about $1 million to convert the front part of the building in Southport into an application-development center. That's the original two-story brick part that dates to about 1920, Paul said.
Offices and training and technical support centers ultimately will take the rest of the space and likely will require a company investment of about $2 million, Paul said.
"It's the largest space that we have so far," he said. "We usually grow piece by piece until we end up taking over entire buildings."
Renaissance in the past three years has invested more than $4.4 million in facilities and $4.6 million in data centers. Last year, the company expanded to 6250 S. Belmont St. and added a financial services division and also a "leadership center" at 6007 S. Harding St.
The company grew 17 percent in 2014, lifting revenue to $24.5 million. It expects to grow another 30 percent this year.
Renaissance processes more than 65 million dental claims and related transactions annually. Its application is used by 27,000 dentists nationwide.  
 
Please enable JavaScript to view this content.