Small breweries are tapping the northern Indianapolis suburbs.

Four have opened just this year, essentially doubling Hamilton County's craft beer market.

That growth is expected to continue: Five more breweries are expected to start pouring in the next three years—and industry experts say that number could grow.


"They're actually providing a neighborhood brewery and bar," said Adam Schick, managing editor at IndianaOnTap.com. "I think that's where the trend is heading now."
Danny Boy Beer Works opened at the beginning of the year in the heart of the residential Village of West Clay. And Heady Hollow Brewing Co. opened in August on Allisonville Road close to several neighborhoods in Fishers.
But in an increasingly competitive market, breweries might need a niche, according to local brewers and craft beer connoisseurs.
Recently opened Flix Brewhouse in Carmel, for example, is a movie theater, restaurant and brewery. Deer Creek Brewery, expected to open next month in Noblesville, plans to offer uncommon house beers including rye ale.
Greg Kitzmiller, a professor at Indiana University's Kelley School of Business who has studied the craft beer industry, said the market appears to have more growth room. Exact figures on the amount of craft beer sold statewide and in central Indiana aren't available. But Kitzmiller said it appears to be less than 15 percent of all beer sold.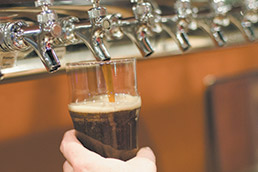 (IBJ photo/Eric Learned)
In cities such as Portland, Oregon, craft beer accounts for 40 percent of the market, he said.

"Given that it's less than 15 percent, there's plenty of room for many different beers and many different breweries," Kitzmiller said, "as long as they have a solid business model."

Schick credited Hamilton County's strong population growth as a reason for the expansion. Hamilton County has more than 300,000 residents as of 2014—a 10-percent increase since 2010—according to U.S. Census Bureau estimates.

"I think it's a match made in heaven," Schick said. "I just don't see it changing much from how it's going now."

Kitzmiller said he couldn't name a specific percentage of craft beer that would oversaturate the market.

"Certainly not one that we're going to reach in Indiana," he said.

Jeff Eaton, owner of Barley Island Brewing Co., opened his establishment in 1999 in downtown Noblesville and has seen the market change.

"The first time we brewed an IPA, people thought it was too bitter," Eaton said. "Now, IPA is our biggest seller at the pub."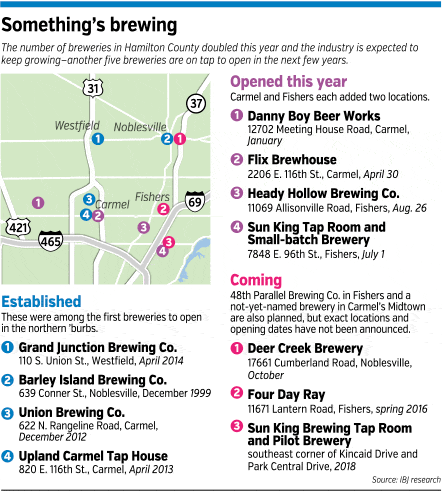 Eaton is in the process of opening a 13,185-square-foot production facility to be called Deer Creek Brewery just off State Road 37 on Cumberland Road in Noblesville. Deer Creek will have 20-barrel capacity, compared to the 10-barrel capacity at Barley Island.

Eaton said he didn't expect the craft beer market to explode. But even as it has, his sales haven't declined.

According to the Brewers Association, craft beer is a $1 billion industry in Indiana, and the number of breweries grew from 46 in 2011 to 80 in 2014. Nationally, the number of breweries increased more than 18 percent from 2013 to 2014.

"Our carryout business just continues to grow," Eaton said.

George Garrison, co-owner of Heady Hollow Brewing Co. in Fishers, is a little concerned about the competition, though. When Garrison and partner Keefe Pietri discussed opening a brewery in Fishers after eight years of home brewing, they expected to be the first.

But Indianapolis-based Sun King Brewing Co. beat them to the punch, opening a taproom at 7848 E. 96th St. in July. Sun King also plans to open a 40,000-square-foot brewing facility and tasting room in Fishers before 2018.

"We knew there'd be other breweries up here eventually," Garrison said. "We're located near a neighborhood, so we're trying to capture that local neighborhood feel."

Four Day Ray Brewing plans to open in downtown Fishers by next spring, and 48th Parallel Brewing Co. is also looking for space in Fishers.

Kitzmiller said the larger, regional craft breweries will likely receive buyout offers from the macro brewers like Anheuser-Busch InBev, but smaller breweries will continue to have plenty of opportunities.

"At some point, there will be some saturation, but that doesn't mean they can't be successful as long as they differentiate," he said.

Schick said small breweries will keep opening because suburban residents want convenience instead of traveling to downtown Indianapolis to fill a growler.

"People keep looking for a bubble, but we haven't seen it yet," Schick said.

Local brewers agree that a variety of styles and flavors is necessary for creating an identity and attracting customers. Eaton said he keeps 10-11 beers on tap and brews about 30 varieties throughout the year.

"There's no boundary for what people can do with a style," he said.

As breweries have opened across the Indianapolis area, so have beer-sampling events.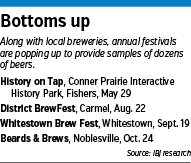 Noblesville Main Street started the Beards & Brews festival last year, with the second annual event scheduled for Oct. 24. Whitestown partnered with IndianaOnTap.com to start a local beer festival this year and Carmel and Fishers both had beer-sampling events this year.

"I think there's a lot of appeal in bringing breweries around that you don't normally have," Schick said.

But participating in those festivals can be costly to a brewer, given the planning and additional staffing required.

"It boils down to having enough beer and having enough taps to go out and pour," Schick said.

He said he expects the smaller festivals to continue, but the larger events might be limited.

"It's less of a strain on the participating breweries," he said.•