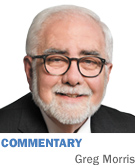 About 450 people, including five Indianapolis mayors, assembled at the Indiana Roof Ballroom Sept. 15 to celebrate the 50th anniversary of the Greater Indianapolis Progress Committee. It was an uplifting evening that inspired all. The best way I can describe it is what I said to folks I talked with on the way out: "It just made you feel good—and proud to be a part of such a great city with a rich heritage of great leaders."
What is GIPC and what has the organization been doing for 50 years? Board Chairman Murray Clark of law firm Faegre Baker Daniels shares some thoughts:
"Mayor John Barton and a dozen business and civic leaders established GIPC in 1965 to revitalize the city of Indianapolis and wake up what was then known as Naptown.
"During the last 50 years, GIPC has served as an advisory arm, a trial balloon, a booster engine, and a sounding board for the mayor and his initiatives. Through the wealth of experience among the members, GIPC exhibited the ability to research, develop, recommend and implement strategic initiatives leading to the remarkable progress and achievements Indianapolis and her citizens have enjoyed over the last half century.
"We commemorate 50 years of public-private partnership, 50 years of advancing Indianapolis, and 50 years of looking forward to a better future. We would not have made it to this point without supportive and engaged citizens and effective city leadership."
Some of the issues GIPC has helped convene forums to address include the development of Eagle Creek Park, the creation of Unigov, the construction of Interstate 465, desegregation of local schools, and building and financing world-class sports facilities. GIPC also created a standing committee—the Race & Cultural Relations Leadership Network—and more recently started a Community Crime Prevention Grant program.
The organization also helped build consensus for constructing the Sidney and Lois Eskenazi Hospital to replace Wishard Hospital and was instrumental in Plan 2020: the Bicentennial Plan for Indianapolis and Marion County, a planning process intended to help define the city's next century. Name a major city initiative in the past 50 years and chances are good GIPC played a role.
So, back to the event. There they were on stage, the five living Indianapolis mayors, recalling their days in office and their interactions with GIPC initiatives and community leaders, many of whom were at the event and are still active today.
The mayors in attendance were:
■ Richard Lugar, 1968-1975;
■ Bill Hudnut, 1976-1991;
■ Steve Goldsmith, 1992-1999;
■ Bart Peterson, 2000-2007; and
■ Greg Ballard, 2008-present
Jim Shella, WISH-TV Channel 8 political reporter and host of "Indiana Week in Review," did a nice job moderating the discussion among the mayors. Every mayor, to a person, talked about building on the success of his predecessors.
This was not a partisan affair, and GIPC is not a partisan organization. The agenda is always about how we can all pull together and make something happen. You know—old-school progress: Republicans and Democrats working together for what is in the best interest of our city and its residents.
That collaborative attitude was on display all evening as the mayors reminisced. I believe the nonpartisan interaction among community and city leaders is what makes GIPC so unique and successful. You hear about Indy's "secret sauce," and GIPC is one of the essential ingredients. Many communities try to duplicate this success, but it's almost impossible to do.
Again, it was a great evening and I felt proud to have been around long enough to witness and be a small part of the city's growth. But what's next on the radar—in the short term and for the next 50 years?
How are we going to address all the abandoned housing and revitalize our neighborhoods? How can we create more successful schools? How can everyone regain hope that there's an opportunity for them to have a successful life in our community? Violent crime becomes less of an issue when these problems are diminished.
Are we finally going to embrace mass transit? How does Indianapolis continue to foster cultural growth and become even more of an inclusive and welcoming international city? Can a shift to a regional economic strategy as opposed to a Marion County strategy accelerate growth and prosperity?
A lot of questions are in need of thoughtful answers and actions plans. You can rest assured GIPC will be on the job, offering assistance to the next mayor of Indianapolis and those who follow as new leaders chart a course of continued success.•
__________
Morris is publisher of IBJ. His column appears every other week. To comment on this column, send e-mail to gmorris@ibj.com.
Please enable JavaScript to view this content.