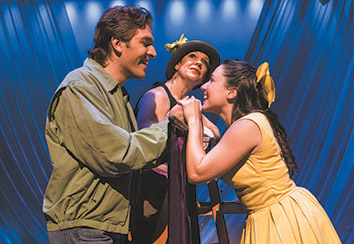 The biggest little musical in theater history, "The Fantasticks," began life as an unamplified, intimate, off-Broadway show, ultimately racking up over 17,000 performances, making it the world's longest-running musical. It spawned a plethora of regional productions and tours (including a steampunk version in 2014), a respectable jazz recording of its score, a movie version that most have forgotten about, and a still-running New York revival.
Requiring a delicate balance of whimsy, theatrics and sincerity, the musical has its problems—among them a thin second act and uncomfortable references to rape (abduction, really)—that need to be danced around. But "The Fantasticks" can thrive when planted in the proper theater and given appropriate watering.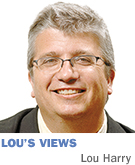 That's the case in Actors Theatre of Indiana's season-opening production (through Sept. 27 at The Studio Theatre).
The story is a simple one: Luisa and Matt are in love, despite the apparent efforts of their respective fathers to keep them apart. We soon learn this parental disapproval was merely a ruse to get the two interested in each other. Eager to end the deception, the papas recruit El Gallo, the show's dashing narrator, to stage a failed abduction that would make Matt the hero and end the families' fictional feud.
From a 50-plus-year distance, you can clearly see traces of "Pippin" and "Into the Woods" in the show's search for truth and its what-happens-after-happily-ever-after second act. At its core, though, "The Fantasticks" has always been a small show about young love and what happens when it's hit with some cold reality.
Under the direction of Bill Jenkins, ATI brings a unified vision to the production, keeping the off-Broadway feel with a simple but attractive set (courtesy of Bernie Killian, who so effectively created the scaled-down environment for last season's "My Fair Lady") and a lovely two-player piano (Brent E. Marty) and harp (Melissa Gallant) orchestra.
At first, I wondered about the decision to cast youthful 2014 Butler University grad Logan Moore as the worldly El Gallo, but then I realized Jerry Orbach was only midway through his 20s when he originated the role. (My assumption about the role was clouded by a 57-year-old Robert Goulet in the 1990 tour.) Moore manages not only to freshly convey the show's signature song, "Try to Remember," and deliver El Gallo's tricky, poetic narration, but he also smoothly delivers the second act's shift in his character.
A bolder move was casting women as the fathers. But it turns out to have been a savvy one, not only because both actresses (Cynthia Collins and Judy Fitzgerald) are fun in the parts, but also because their presence helps mollify the gender imbalance of a show where the only women are a pantomiming Mute (Holly Stults, underused) and a naïve teen.
It's so easy for the young couple at the core of "The Fantasticks" to become annoying—they are, after all, playing exaggerated versions of our own youthful passions. Here, though, Laura Sportiello and Michael Ferraro walk the fine line of keeping us aware of their youthful absurdities while never stopping us from rooting for them. Both are terrific calling cards for Ball State University's theater program, from which both recently graduated.
The biggest laughs—and the production's most moving moments—come through actors-for-hire Henry (Paul Collier Hansen) and his sidekick (perhaps partner?) Mortimer (Michael Elliott).
There's a sense that these two have seen human follies such as those portrayed here played out many times over. Mortimer approaches life with deadpan resignation while Henry tries to cling to the moments when he is, briefly, in the spotlight and recognized by the world.
In a play that wants us to "try to remember," Henry's sad eyes carry the memory of being noticed. That vulnerability enriches this already rich, gentle production.•
__________
This column appears weekly. Send information on upcoming arts and entertainment events to lharry@ibj.com.
Please enable JavaScript to view this content.