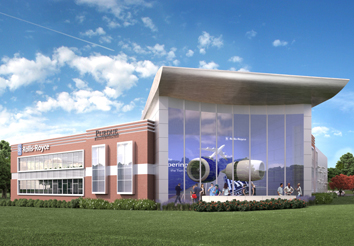 Aviation giant Rolls-Royce Corp. is planning to house research and development operations for jet engine components in a new facility in the fledgling Purdue Research Park Aerospace District, company officials announced Wednesday afternoon.
The global firm with extensive operations in Indiana expects to occupy a 40,000-square-foot building to be constructed in the recently designated district, a 980-acre technology park in West Lafayette that encompasses the Purdue University Airport, Purdue Aviation and other land.
The cost of the building has yet to be determined, according to Rolls-Royce spokesman Joel Reuter. Employment at the facility also is up in the air.
"We will most likely have staff from Indianapolis visit and work in the facility on a project basis. So, depending on the flow of research, it would be difficult to say if any will be there on a full-time basis," Reuter said.
The building will be built and owned by the Purdue Research Foundation, which owns and manages the Purdue Research Park network. Rolls-Royce will lease the space for its research and development work and collaborations with the university in aviation research.
Rolls-Royce is one of the largest employers in central Indiana, with operations in more than 10 different sites. Its largest North American manufacturing plant is at Tibbs Avenue and Raymond Street in Indianapolis. It also has a significant white-collar work force—largely engineers—that operates from a former Eli Lilly and Co. campus on the south edge of downtown.
The park is intended to house aerospace firms working on educational, research and commercial projects, with opportunities for Purdue University students to participate. The Rolls-Royce facility is the first new project to be announced for the park.
"We see great potential in how it will continue to help us provide innovative solutions for our customers," said Denny Warner, an executive for Rolls-Royce.
"The energy that is generated from the activities in the district and the proximity to Purdue's airport, and the aviation, engineering and technology programs will provide us with greater opportunities to conduct collaborative research with Purdue while we continue to advance our own work in jet engine development," Warner said.
The research facility will focus on activities such as the design, development and testing of jet engine components; collaboration with Purdue researchers through corporate partnerships; and recruiting future talent through connections with current Purdue students and graduates.
Nearly 600 Purdue graduates currently work for Rolls-Royce, according to the firm.
 
Please enable JavaScript to view this content.