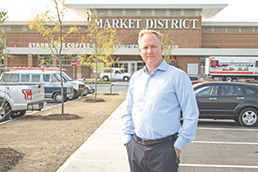 (IBJ Photo/ Eric Learned)
Carmel resident Steve Pittman enjoys seeing how his hometown has changed—and sometimes being part of that change.
The 51-year-old has barely lived elsewhere—some time in Tucson while attending the University of Arizona, a couple of years in Bloomington for a master's at Indiana University, and a brief stint in Florida for his first job.
He returned to Carmel in 1990, and in 1994 started his own development company—Pittman Partners. Most of his career has been focused on residential communities, but he's dabbled in retail, too.
He says anytime he thinks he has the business figured out, the market reminds him he doesn't.
On his first residential project—The Reserve at Springmill (where he lives):
Banks and appraisers always say, if you want to do a project, let's go look at how other ones are doing and, based on [that], we'll determine if this makes sense or not.
Lenders were uncomfortable with this because there was nothing in the market out here like that geared toward empty-nesters. I was looking at people like my parents, who are getting to the age where they want to travel and they want to be able to just lock their doors and leave.
We took this thing on and it turned out really well.
On how he became interested in real estate:
Every time I was stuck in the car with my dad (John Pittman), he would be out looking at real estate and he'd be telling me who owned every parcel. He had kind of a vision of what was going to happen with real estate. And the funny thing about that was, he was a doctor.
What I liked about real estate was, at the end of the day, you could see your work, you could look at what you had done. I think in a lot of professions, you can't really see that.
I think it's a very hard profession. It's very competitive and it's very entrepreneurial. You think you're making good decisions and sometimes things out of your control can really have an impact like a bad economy or rising interest rates. It's not for the faint of heart.
On the $100 million mixed-use development at Illinois and 116th streets known as The Bridges:
You could absolutely write a book about this property. This is the property that really got me involved in real estate. In 1987, my dad attempted to rezone this property. He wanted to put in professional office buildings and residential homes.
The meeting was so big they had to move it to the high school cafeteria. People came out in force and stopped the development.
Really from that day on, it became my dad's mission—and somewhat my mission—to rezone this property, and it took all the way until 2011. This has turned out much better than any of us could have ever imagined.
My dad died Christmas Day of 2014, and it was very satisfying that, while he was alive, he was able to see us rezone this property and he was able to see the grocery store starting to come in.
Eventually, the marketplace prevails. Councils change, mayors change, plan commissions change. Eventually, the right use gets in.
On project downfalls:
During [the Great Recession], we had a number of things that just didn't work out for us and we had to struggle through it. I've definitely been at the school of hard knocks.
The earlier in your career that you can have struggles, you're better off from it. It really humbles you and it teaches you there are many things outside of your control and you have to manage that risk. You can't eliminate risk, but you have to manage risk.
On U.S. 31 construction:
Since I moved back here in 1990, almost every project that I worked on, everybody would talk about when U.S. 31 would become a limited-access highway, and how it's going to affect us. There were all sorts of speculations.
I heard so much about it that I got tired of hearing about it and wondered if it would ever happen. The fact that it's actually happening, I think it's going to be a game-changer. Not only is it great for Carmel, but I think the biggest winner is Westfield. All of a sudden, you're literally 10-12 minutes from [Interstate] 465. I think that's going to really make some things happen.
On what makes a development successful:
Whenever I think I know that, I'm wrong. I've seen a number of projects that I didn't think would work be successful and projects I thought were going to be successful weren't.
The old adage is location, location, location. Location is still important, but the other thing that's important to me is execution. What's the product? What's the price point?
Click here for other interviews.
Please enable JavaScript to view this content.