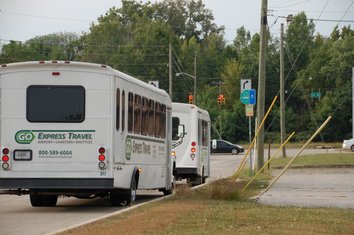 Two new "reverse commute" bus routes have launched with the goal of shuttling Indianapolis-based workers without reliable transportation to warehousing jobs in north Plainfield and Whitestown.
The temporary, three-year routes are in addition to the Central Indiana Regional Transportation Authority's existing Plainfield Connector. That route for three years has been taking workers from Indianapolis to the south side of Plainfield, near an Amazon facility.
CIRTA said it has also secured funding to keep that existing route in place through at least 2016.
The north Plainfield and Whitestown routes were first announced last fall but are just now getting under way.
The shuttles, which will take workers from IndyGo bus stops to various worksites each day for $2 per round trip, was funded with $1 million in federal grants and contributions from Amazon, Browning, Duke Realty, the town of Plainfield, the town of Whitestown and the city of Indianapolis. Go Express will operate the buses.
"They're not the long-term answer, but they're a start while we continue to work on long-range solutions for improved mass transit in the region," Lori Kaplan, interim director of CIRTA, said in a written statement.
The new routes are coming just in time for a busy holiday season, in which several suburban warehousing employers are expected to bring on extra workers.
"We have jobs that need to be filled, and people who need jobs," said Boone County Commission President Marc Applegate in a statement. "The Whitestown Connector is the bridge between people and jobs."
The new routes include the following destinations:
— The Whitestown Connector, which runs Monday through Saturday, will pick up riders at IndyGo's Traders Point stop and will take people to jobs at Amazon, Express Scripts, GNC, Kenco and Weaver Popcorn.
— The North Plainfield Connector, which runs Monday through Friday, will pick riders up in downtown Indianapolis and drop them off at AllPoints Midwest, which includes Adesa, Ingram Micro, Prime Distribution, Regal, Tempur-Sealy and the Walmart eCommerce Fullfillment Center.
CIRTA and local officials will evaluate the demand for the service over the three-year demonstration period.
Currently, the Plainfield Connector has an average daily ridership of 85 and carries up to 130 people each day during the holiday season.
Please enable JavaScript to view this content.