Local entrepreneurs Mark Welsh and Charlie Russell are living a fantasy.

The two 2008 Cathedral High School graduates last year started an app development company. And this year, they inked partnerships with ESPN fantasy football guru Matthew Berry and daily fantasy sports behemoth DraftKings for their first major endeavor.

Their Fantasy Life app, which carries the same title as Berry's recently released book, was launched through the Apple iTunes Store in January. Through June, it had only 3,000 downloads.

But since Berry started promoting the app in July, it has been downloaded more than 65,000 times and now has 45,000 monthly and 12,000 daily users. It's been a mainstay in the listing of top 100 sports apps in the iTunes store since NFL training camp kicked off two months ago.

Russell said the slow start was "by design."

"We wanted to create a culture before we started a marketing push," he said.

Now the duo is running faster than T.Y. Hilton and hoping to have more than 100,000 users before the end of this NFL season—possibly by Thanksgiving.

Berry promotes the app three or four times a week: online through Twitter and blog posts and on television, according to Welsh and Russell. The full name of the app carries his name—Fantasy Life: Matthew Berry's Fantasy Football Social Community.


Fantasy Life has an Instagram-like format, but instead of merely posting photos, users can post comments, analysis, memes and playful trash talk to fellow players, as well as seek advice and put up poll questions for other app users to respond to. Users can also organize their comment section for smaller private groups.

The duo said they modeled the app after the national discussion board Reddit.

Welsh and Russell, both 26, also host a Wednesday Waiver Wire session, where they answer user questions about fantasy football strategy for the upcoming slate of NFL games. During a 3-1/2-hour session this month, the two fielded 1,700 questions.

Money from Boston-based DraftKings—which, along with FanDuel, is widely recognized as a leader in the daily fantasy sports industry—is enough to sustain Welsh's and Russell's firm while they determine the best way to monetize the app. Currently, users download it for free.

For DraftKings, the app is just one part of a larger marketing strategy. DraftKings and FanDuel combined have spent more than $107 million on advertising since the NFL season kicked off last month, according to Ad Age. Welsh and Russell didn't say how much of that cash they received, but it's enough for now.

"DraftKings has allowed us right now not to be distracted by money," Welsh said. "Our number one goal right now is to grow our user base and get people to come back."

But at a time when tens of thousands of apps are competing for mobile phone users' attention, that might be a tough climb for Welsh and Russell, who run their company, Arke Apps LLC, out of The Speak Easy in Broad Ripple.

"The days of 'If you build it, they will come' are over," said Santiago Jaramillo, CEO of locally based Bluebridge Digital, which runs a platform that helps organizations create and manage apps for their users. "You have to have a carefully detailed plan to get your app to its intended audience."

And even a carefully designed app can face "long odds in gaining a really big audience," said Travis Faas, an instructor in IUPUI's School of Informatics and Computing.

"You have to have a very smartly designed app icon—it must really stand out—to catch people's attention. Your app has to have a good explanation of what it is, be easy to navigate, and you have to be really good at app-store optimization," Jaramillo said. "That's just the beginning. You have to be very intentional with your marketing and keep the content fresh to keep people coming back."

The Godfather

Welsh and Russell have already stared down some pretty long odds just to get this far.

"We knew we had to find partners with clout," Welsh said.

With that in mind, Welsh headed to Berry's book signing in May 2014, at the Barnes & Noble in Carmel. Welsh hung around on the periphery listening to Berry field question after question.

"We had the idea of apps with communities that talked back—about creating apps for the most die-hard communities in the world," Russell said. The duo surmised that no group was more die-hard than the estimated 50 million Americans who play fantasy football. And Berry was their Godfather.

"I had read his book and listened to his podcast and he appeared to be someone who really cared about his fans," Welsh said. "I wanted to see that for myself in person.

"People would ask him what I thought were the most meaningless questions, and he would answer every question like it was the most important question he would answer all night," Welsh said of Berry. "We wanted to partner with someone who cared that much about their audience."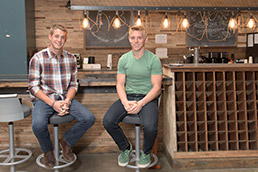 Charlie Russell, left, and Mark Welsh have kept costs down by working out of The Speak Easy in Broad Ripple and hiring only one employee. The Arke App founders didn't want to lose decision-making power by bringing on investors.
(IBJ photo/Eric Learned)
So Welsh sauntered to the back of the line—so he could ask the last question—and mustered up his courage. When it came his turn to talk to the ESPN on-air talent, he poured out his idea for a fantasy football social community app.

Berry was intrigued and gave Welsh a business card with these instructions: "Email me your idea. If I like it, I'll email back. If I don't like it, you'll never hear from me again."

The next day, Welsh and Russell worked for eight hours putting together a lengthy proposal. Two days after the book signing, the duo pushed send on the email to Berry. Within 24 hours, Berry requested a conference call with the two young entrepreneurs.

According to Welsh, Berry started the conversation like this: "I have 20 minutes—Go!"

Welsh and Russell said the conversation lasted two hours. Berry then had L.A.-based United Talent Agency vet the young entrepreneurs.

"Matthew has so much respect for his fan base, he's very particular who he works with," Welsh said.

Berry doesn't have an ownership stake in Welsh's and Russell's company, but they said they have a multi-year partnership.

"The arrangement we have is very fair and I think we both benefit," Welsh said. He did not offer details.

The big guns

Once the deal between Arke Apps and Berry was formalized, he connected them with DraftKings, which has an exclusive deal with ESPN.

"What Matthew believes in, DraftKings believes in," Russell said. "What he's a part of, they want to be a part of."

Berry, who was unavailable to be interviewed for this story, said in a recent online post that he partners with and promotes very few companies.

"When I promote something, it's because I truly believe in it and it's something of quality," said Berry in one of his recent columns on ESPN.com. "The app based on Fantasy Life has a five-star rating based on hundreds of reviews."

The duo didn't just rely on a celebrity endorsement.

Welsh and Russell went on ESPN Mock Drafts and spread the word about their app to fantasy football players one by one. They created fake accounts to drive more content they wanted within the app (as the creators of Reddit did) and they became the go-to users on the app whenever anyone needed anything.

The app's following began to grow.

Welsh, who graduated from the University of Notre Dame with degrees in psychology, computer science and Middle Eastern studies, and Russell, who graduated from Purdue with degrees in history, economics and entrepreneurship, discussed in college the possibility of going into business together.

Welsh spent six months after graduation in Cisco's sales training program in North Carolina before taking a job with Cisco partner Netech Corp.

Russell spent two years selling high-tech cabling for General Cable in Boston before the two decided it was time to start their own firm.

"We saw this huge trend toward mobile apps," Russell said. "And we saw that influencers need a platform to communicate with their audience."

Russell said he and Welsh—both avid fantasy football players—decided to develop an app that appealed to other players "because you don't play fantasy football nonchalantly."

No investors wanted

They each put in a five-figure sum to launch Arke Apps and have developed two apps so far. SwapU creates a marketplace for college students to sell and trade products and services. But the two said they are now primarily focusing on Fantasy Life.

Welsh and Russell have kept costs down by keeping the company small. They have hired only one employee—a programmer. They rely on the longest-standing users of their app—deemed Fantasy Life Original Gangsters, or FLOGs, by Berry—to patrol comment sections for over-the-line trash talk.

"We didn't want to raise any money" from investors, Welsh said. "Once you start to raise money, you lose some of your decision-making power."

While Welsh and Russell would like to make money from Fantasy Life, they're in no hurry to add premium content or banner ads. They have talked with other potential corporate partners but are taking time to evaluate those opportunities.

Jaramillo, of Bluebridge Digital, said that approach is smart.

"Monetization introduces friction, a non-optimal experience for users, and that slows down growth," Jaramillo said. Once the company attracts "a mass [audience] big enough to sustain, then and only then should they try to monetize the site. It's a delicate balancing act."

Russell said the company wants to be selective with advertisers, and "build the advertising into the content."

"It's important for our sponsors to make sense and be integrated seamlessly into the app," Welsh said, "and to be a part of the conversation."

The two are also considering a format that offers both free and paid premium content.

"We do have a lot of good ideas for ways to monetize the app," Welsh said. "But we'll never have a full subscription site."•