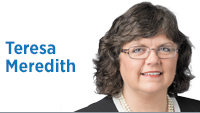 What did you eat for breakfast this morning? For most Hoosiers, breakfast is a certainty, available, maybe even deliberately skipped because we are too rushed.

However, for thousands of kids across the state, breakfast isn't even an option. One in five kids is food insecure. Food insecurity is the result of poverty. And impoverished kids struggle in school.

My kindergarten student, Tim, lived in a car. He woke in the morning atop pillows, clothes, bags and whatever else was piled in the backseat. He'd use the nearest gas station bathroom to prep for school, wash his face, brush his hair. Tim's mom cautioned him not to get his clothes dirty because he'd have to wear them the next day.

At school, he gobbled up the morning snack, hunger his constant. He inhaled his lunch and looked forward to an occasional extra. When he left school each day, I wondered if that was the day his family's struggle would be discovered, if that was the day child services would take him from his parents. Parents who worked but couldn't quite make ends meet.

So, why should we care? Because hungry children have lower test scores than their well-nourished peers and are more likely to have to repeat a grade. Because children experiencing hunger are more likely to be hyperactive, absent and tardy in addition to having more behavioral and attention problems. Because hungry children are more likely to receive special education services or mental health counseling. Because our kids, despite their economic realities, deserve a fair shot.

Indiana is racing to the bottom, ranked 32nd in overall child well-being and 35th in overall children's health. Tomorrow's physicians, entrepreneurs and educators are attending school today. We have a responsibility to ensure all kids, regardless of income, have an equal chance for success.

The cycle of poverty is deeply rooted with various causes. Yet, no matter the cause, policymakers and business leaders must figure out how to help meet the needs of families that go well beyond simply getting an impoverished student into a school. So consider:

Talking to social service organizations about the issue and finding out what you can do. For example, if parents need job interview/application assistance, consider offering free training to clients that social services sends your way.

Sponsoring a before-and-after school program at a school in your community.

Allowing employees a fixed amount of hours to volunteer in a before-and-after school program or in a community tutoring or mentoring program.

Establishing an onsite health clinic and child care center, both at low or no cost to employees.

Granting a number of volunteer hours to employees who will volunteer in a local school.

Raising the minimum wage so families have a better shot at success.

Even the best high school career prep programs cannot thrive if students are not prepared to enter them. Deeper yet, if students start K-12 with an academic deficit, they will struggle throughout their academic life.

If we want a skilled workforce, educators can't do it alone. We need your help. We can have a healthier, better prepared workforce if we're all working together. After all, our future, and the future of kids just like Tim, depends on it.•

__________

Meredith is president of the Indiana State Teachers Association and has taught for more than 20 years in Indiana schools. Send comments on this column to ibjedit@ibj.com.