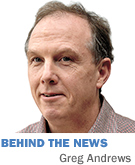 It appeared that former Indianapolis developer Sydney "Jack" Williams had avoided legal disaster five years ago when prosecutors concluded he was an unwitting participant in Miami fraudster Nevin Shapiro's $930 million Ponzi scheme.
But now the 66-year-old Naples, Florida, resident is at risk of going to prison—for the second time since the Shapiro scandal broke.
Williams, who founded locally based Williams Realty Group and built strip shopping centers across Indianapolis, recruited a who's who of Indiana businessmen to invest in Shapiro's Capitol Investments, earning up to $18 million in interest and commissions along the way.
Turns out the Florida grocery-wholesaling business Williams and his friends plowed millions into didn't have real operations, and Shapiro—who used proceeds to fund a lavish lifestyle, pay off gambling debts, and make illegal payments to University of Miami athletes—received a 20-year prison sentence in 2011.
End of story? Not even close. A few months later, prosecutors charged Williams had failed to report on his taxes $6.4 million in commissions he collected for recruiting investors, many of them friends he'd met when he was a Sigma Chi at Ball State University. He pleaded guilty, and received a one-year prison sentence.
Now, he's in the government's crosshairs again. In February, a grand jury indicted him and his wife, Lorie, 48, on charges they conspired to move more than $300,000 in cash a short time before Sydney filed for bankruptcy in 2010.
Prosecutors allege he and Lorie made 35 bank withdrawals of $9,500 each during a 50-day span. They say the withdrawals were purposely less than $10,000, an amount that triggers an automatic federal report.
A few weeks into the withdrawal spree, the couple leased a safe-deposit box at the First National Bank of the Gulf Coast, apparently to store cash. After Sydney filed for bankruptcy, he was required to list all safe deposit boxes leased in the past year, but he didn't disclose the Bank of the Gulf Coast box, prosecutors said.
The counts against Sydney carry a maximum sentence of 20 years, and those against Lorie carry 10 years.
But in a surprise move, Lorie this month reached a plea agreement under which she'll admit guilt to one of the two counts against her, and the other will be dropped. Her husband, meanwhile, is scheduled for trial in November.
It's not clear why their legal strategies aren't in sync. Her attorney, Doug Molloy, declined to comment. His, Brian Bieber, could not be reached.
The couple's woes have left a trail of carnage across central Indiana, fraying family relationships and friendships.
Among those caught in the middle is David Charles, a Katz Sapper & Miller partner who is trustee of two Williams family trusts whose beneficiaries include Sydney's sister Jana M. Emerson and her children.
As trustee of the 2004 and '06 trusts, Charles has a fiduciary duty to the beneficiaries, but he nonetheless allowed the Williamses—who were not entitled to trust assets—to take money out, according to a suit Emerson filed against Charles and KSM in May.
The suit offers few specifics, but a more complete account is contained in court filings by the bankruptcy trustee trying to recover money for victims of Indianapolis businessman Tim Durham's $200 million Fair Finance Ponzi scheme.
Williams became entangled in that mess by happenstance—in the mid-2000s, he sold a home to Fair co-owner Jim Cochran, a participant in Durham's fraud who used $760,000 in Fair money to pay for the residence. Because Fair got nothing in return, Fair trustee Brian Bash sued, charging the payments were fraudulent transfers that must be returned.
The money went into one of the trusts, but is now gone because the couple raided the accounts to pay personal expenses, Bash alleges. He said Charles, a longtime friend of Sydney, repeatedly complied with the couple's requests to wire hundreds of thousands of dollars, booking transactions as loans, which weren't repaid.
He did so, Bash alleges, even though the Williamses weren't beneficiaries of the trusts, and one of the trusts specifically forbade loans to non-beneficiaries. "In short," Bash wrote, the couple "treated the Williams trusts as their personal piggybank."
Charles settled the suit this fall, consenting the trusts owe the full $760,000, but paying just $25,000 from the depleted accounts. A bigger payday could come later, since the agreement assigns Lorie's loans to Bash, giving him authority to launch collection efforts against her.
A judge this month OK'd the deal—despite protests from Sydney and Lorie, who represented themselves in the case. In a filing, they wrote, "We as defendants believe that the proposed settlement agreement accepts the maximum possible judgment against the trust and Lorie without requiring Bash to prove he has any claim against the trust at all."•
Please enable JavaScript to view this content.