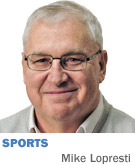 With the NBA season imminent, consider the unusual, curious and occasionally screwball paths taken by the coaches. How much do you know about the guys who will be pacing the sidelines, scowling over bad calls?

We're about to find out. To commemorate opening night, let's play 20 questions, about 20 NBA head coaches.

Who once worked in the marketing department of a pharmaceutical giant?
OK, this one doesn't even count. Too easy. As anyone who has even driven past Butler's Hinkle Fieldhouse knows, Boston's Brad Stevens was once at Eli Lilly and Co.

Who got a degree in Soviet studies and trained in intelligence in the Air Force, with an eye toward joining the CIA one day?
San Antonio's Gregg Popovich. Turned out he decided to accumulate NBA champion rings, not Russian secrets.

Whose father was assassinated by Islamic extremists?
Golden State's Steve Kerr, who was only 18 when father Malcolm was gunned down in Lebanon. Malcolm Kerr was president of American University of Beirut.

Who once left a six-figure job with AT&T to take a backpacking tour of Australia, then met his wife and started his coaching career there?
Philadelphia's Brett Brown. GoodOnYa, mate.

Who, as an NBA player, always stroked the side of his face three times before shooting a free throw, as a way to say hello to his kids at home?
Phoenix's Jeff Hornacek. Maybe the Pacers should try that. Hornacek's career free-throw percentage was 87.7.

Who is the only college coach not named Mike Krzyzewski and John Wooden to win back-to-back national championships in the past half century?
Oklahoma City's Billy Donovan. He nearly made Florida a basketball school.

Who scored 39 points in the title game, as his school became the smallest since Milan to win the Indiana state championship?
Orlando's Scott Skiles. His 22-footer at the buzzer for Plymouth to force overtime against Gary Roosevelt was pure Jimmy Chitwood.

Who was on "The David Letterman Show" as an eighth-grader in the Stupid Human Tricks segment, spinning a basketball on one end of a toothbrush as he brushed his teeth with the other?
Frank Vogel, of course. Anyone who doesn't get this right has to dance at the home opener with Boomer.

Whose college degree was in philosophy, politics and economics?
Atlanta's Mike Budenholzer. He also lettered in college in golf. Sounds as if he'd be an interesting guy to include in a foursome.

Who co-captained an underdog Virginia team that denied Bob Knight and Indiana a Final Four trip?
Dallas' Rick Carlisle did the dirty work for the Cavaliers against the Hoosiers in the 1984 regional final. Two days before, Indiana had beaten No. 1 North Carolina and Michael Jordan. The hardest job was supposed to be done.

Who led the Russian team to a bronze medal in the 2012 Olympics?
Cleveland's David Blatt. What's the difference between coaching Russians and coaching Cavaliers? A coach never says nyet to LeBron James.

Who began as a high school teacher with his degree in special education?
Charlotte's Steve Clifford. Clearly, the man has patience.

Who was so popular in college, he got some write-in votes for city mayor?
Chicago's Fred Hoiberg, hence his nickname: The Mayor. How'd you like to be the coach following him at Iowa State?

Who changed his mind and decided to pursue coaching, just when he was considering entering state police training?
Denver's Mike Malone. Which is why he's in charge of the Nuggets now, not writing speeding tickets.

Who was the first man ever to coach his son in an NBA game?
The Los Angeles Clippers' Doc Rivers. As Doc once said, maybe now his son Austin actually has to listen to him.

Who recently became engaged to a former dancer for the team?
Miami's Erik Spoelstra. Not sure he was entirely focused on the Heat during all those timeouts back then.

Who is the only NBA coach whose bobblehead doll was given out to the first 400 fans to show up at a Dakota Wizards game?
Memphis' David Joerger. He was a victory-producing machine with the Wizards.

Who once worked in a Kentucky coal mine?
Toronto's Dwane Casey, who as a Kentucky player undoubtedly found Rupp Arena a more attractive place to spend his time.

Who has an MBA from Duke?
Utah's Quin Snyder. Since he played under Krzyzewski for the Blue Devils, it is unclear whether MBA stands for Master of Business Administration or Mike's Basketball Academy.

Who once arrived late for a playoff game, led by a police escort?
New York's Derek Fisher, when he played for Utah. Fisher had been in New York for his daughter's eye cancer surgery, flew back to Salt Lake City that day, rushed to the arena, put on his uniform, raced to the court, received a standing ovation, and immediately went into the game. He hit a crucial three-pointer to help seal a Jazz victory.

Whose college degree at Oklahoma came in zoology?
Portland's (and Bloomington North's) Terry Stotts. He once explained he was a pre-dental major, so he had to choose between zoology, botany, chemistry or physics. "I took the animals."

Eclectic bunch, are they not? But starting this week, they're all on the same treadmill.•

__________

Lopresti is a lifelong resident of Richmond and a graduate of Ball State University. He was a columnist for USA Today and Gannett newspapers for 31 years; he covered 34 Final Fours, 30 Super Bowls, 32 World Series and 16 Olympics. His column appears weekly. He can be reached at mlopresti@ibj.com.