There are a few advantages to having a nice sit-down restaurant and bar attached to a gigantic supermarket.

1. There's no excuse for the kitchen to run out of any ingredients.

2. You don't have to shop while hungry.

3. You can have a drink after seeing how much you spent on groceries.

Those thoughts occurred while I dined at Table (11505 Illinois St., Carmel, 569-0171), the restaurant that is a part of the new Market District mega-market. Not to be confused with the various dining options within the market (that's another story that I might or might not get to in another column), Table offers full-service lunch and dinner with brunch on weekends and a banquet room available upstairs.

My first bite of the Not Your Average Indiana Pork Sandwich ($12) indicated the Table kitchen isn't going for the obvious. Here, the Hoosier staple is differentiated by its smoked and lightly breaded pork—sizable but not show-offishly extending far beyond the bun. The bun, brioche actually, handled it nicely and a Dijon aioli and crisp pickles combined to create a sandwich that might make purists balk but should satisfy the more adventurous. The hand-cut fries that accompanied were comfortably in the edible-but-not-outstanding zone. (You can also get them as Knife & Fork Fries, with rotisserie chicken, pork or Angus short rib, as a $10-$12 appetizer.)

Another visit, this time with a guest, opened nicely with the Mediterranean Sampler ($10). The seven-parter featured falafel and housemade hummus, marinated Feta and peppers, tzatziki, olive and tomato, all fresh and attractively presented.

I was less enamored with the Char Sui Chicken ($12), a salad that should have been livelier but didn't spark. The promised Asian-style spiced chicken, cilantro and honey-sesame dressing seemed to shy away from the veggies rather than enhance them. Better: The Bison Burger ($14), with just enough bacon-onion marmalade to give it a unique, memorable taste.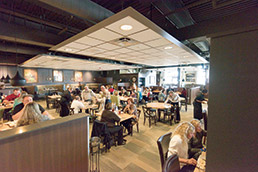 Table's dining room (IBJ photo/Eric Learned)
One nice touch that I hope other restaurants adapt: While the restaurant has a traditional kids' menu, it also offers smaller portions of any regular menu item to encourage young foodies to try something beyond the usual chicken strips and burgers.

Oh, and finally, another advantage of a restaurant attached to a supermarket:

4. If nothing on the dessert menu appeals to you, aisles of treat options are available right next door.•

–Lou Harry