When Howard Bates resigned as CEO from marketing-software firm SmarterHQ in January, the 61-year-old's original plan was to take a step back and probably just invest in and advise startups.

Then he came across an idea for a smartphone appcalled WorkHere that connects job hunters and employers in high-turnover fields. Instead of stepping back, he stepped in, and he's now CEO of the startup, called Work Here LLC.

"After I saw what I thought the application could be, the social aspects of it and the experience base of [the founders]," Bates said, "I thought, 'OK, this is a no-brainer.'"

Bates, who founded software development firm Haverstick Consulting in 1995, is among a raft of Indiana veteran technology leaders who have recently opted to get involved in startups in a hands-on way. The list also includes Aprimo co-founder Bill Godfrey, who spearheaded the creation of LabelNexus in the past year, and Made2Manage co-founder David Wortman, who became CEO of Diagnotes in 2011.

Older technology entrepreneurs and executives who have experienced successful corporate exits often limit their startup involvement to mentoring, investing and board membership. Many of them have little need to work ever again.

But increasingly, tech veterans are getting back into the trenches, either to scratch an entrepreneurial itch, seize opportunities that didn't exist 10 or 20 years ago, or provide coveted experience directly to a company they believe in.

Vance
"What I see is ... a lot of very experienced leaders who are trying to help create scale, growth and opportunity for others," said entrepreneur and local tech observer Jenny Vance. "And not just in words and not just with dollars, but with actions."

Steve Ehrlich spent more than two decades in executive roles at young companies before becoming president at health care software firm PolicyStat in 2010. He ran a team at Software Artistry in the 1990s, for instance, and held senior roles at marketing-software company Aprimo and auto-dealer software provider Autobase.

All of those firms experienced exits, either through IPOs, acquisitions or both.

Ehrlich, 53, said he had pondered getting into the not-for-profit sector after leaving Autobase in 2009, but a few acquaintances introduced him to PolicyStat, which at the time was a fledgling firm that needed a full-time captain. He jumped at the idea because of its focus on health care organizations and because it was a startup.

"The places where I got the most personal fulfillment were the places where I was building something or creating something," Ehrlich said. "And where I always experienced that was in small companies."

Christopher Clapp was in a similar situation after selling Angel Learning, where he was CEO, to Blackboard for $100 million in 2009. He spent the following year advising other startups, got the itch to dive back into one, and joined Bluelock, a 4-year-old cloud storage and operations company, as CEO in 2010.

The 55-year-old said he wanted to jump into a startup so he could understand the market opportunities, chart a company's course, and, among other things, build a high-quality team.

"Those are not things you can do from the sidelines," Clapp said. "You have to immerse yourself to really understand those aspects."

Technology veterans who hop back into operational roles have some unique attributes, said tech entrepreneur and investor Mark Hill. Besides being some of the most seasoned executives around, they also have financial wherewithal and an extensive network of friends and acquaintances.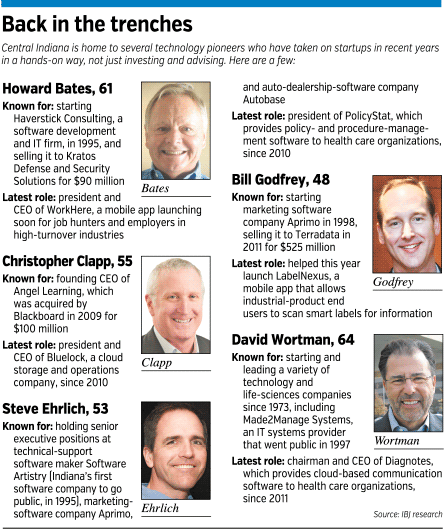 "Somebody like Bill Godfrey," Hill said, "he can make the phone calls, and he's got the team that he needs assembled."

Godfrey's story with LabelNexus is somewhat atypical. He's not on the management team of the startup, but he helped spearhead its creation after the idea for it bubbled up from client demand at another firm Godfrey is involved in.

The company's mobile app allows users of industrial machinery to scan labels for information, help or after-market parts ordering.

"This is really the first time I've done it from scratch," Godfrey, 48, said. "The other nine companies that I invested in or helped from an advisory or board standpoint, those businesses were in existence before I got involved."

Some of the companies these tech veterans are helping create or lead likely would not have existed a decade ago. For instance, Diagnotes, run by Wortman, 64, provides communications software for health care clients that, in part, allows nurses to track down and contact the right on-call specialist no matter the time of day.

The software-as-a-service company depends on smartphones and cloud computing, which began proliferating only in the last few years.

Bates' company, WorkHere, is based on smartphones and geospatial technology, which allows job seekers to pull up a map displaying where job openings are in real time.

Other Indiana entrepreneurs who have dived back into startups after successful exits elsewhere include 55-year-old Chris Baggott, who helped lead ExactTarget to a $161 million initial public offering in 2012, and 55-year-old Scott Jones, the high-octane entrepreneur who sold voice-mail company Boston Technology for $843 million in 1997.

Baggott's latest hands-on venture is food-technology startup ClusterTruck, which launched this spring, and Jones has been busy with coding academy Eleven Fifty, which launched in summer 2014.

But experience doesn't guarantee success. Scott Jones started ChaCha in 2006 and, after $82 million worth of venture capital investments, is struggling to sell the firm.

Hill said that's just part of the game.

"That's an important piece of the whole culture, too," he said. "You've got to have a lot of people trying in order to get a few people to hit it."•