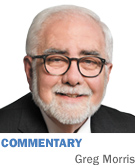 I believe Indianapolis will elect a new mayor on Nov. 3. Yes, I'm certain I heard that somewhere. And while most politicos have already crowned Joe Hogsett the winner, upsets aren't unheard of.
To my point—remember that Greg Ballard guy who was elected mayor eight years ago? Very few "experts" gave him any kind of chance. Upsets are possible in politics and sports. That's why we have elections and why we play the games. Both candidates need your vote to push them over the top.
And while the Indianapolis mayoral election has received the most attention, it's not the only important contested office in the region. Plenty of other offices are up for grabs. As much as we obsess over national politics, the local races in your hometown, city, county and state usually affect your day-to-day life more.
I do realize that some suburban communities have canceled their general election. Not all cities or towns had contested races. So, if you do have a general election in your precinct, PLEASE GET OUT AND VOTE, if you haven't already.
Getting back to the Indy mayor's race–at the recent Greater Indianapolis Progress Committee 50th anniversary dinner, the last five mayors of Indianapolis gave advice to current candidates Chuck Brewer and Joe Hogsett. These ex-mayors know intimately what the job requires. Their advice might help you sort out which candidate you should vote for.
I'm paraphrasing the mayors, all of whom agreed great leadership is a given requirement. Here's what they said:
Dick Lugar: It's important to present varied and distinct programs and ideas—not generalities. We're not looking to hear that we need more jobs, need a stronger economy, and need to work well with one another, etc. Get into the neighborhoods and get specific and say, "This is what I can do for you." Articulate how to stop those neighborhoods from emptying out because residents are finding better possibilities somewhere else.
Bill Hudnut: Manage the city well. Take care of the store. Be inclusive and don't practice a vindictive form of politics—to the winner goes the spoils. Once you're the mayor, you have to be mayor of all the people. Do everything you can to be a very good ambassador for the city. Be broad-minded, dwell on the positives, and lift up spirits. You've got to love the city, love the people and love the job.
Steve Goldsmith: You can't build a great city without a great school system. If the path to a middle-class education is to move out of the city, we'll never get there. We've had 40 years of well-run city government. There isn't any substantial fat to cut, and there's not enough money to provide the services needed, so pay attention to that. The next mayor will have a tough sell to create a consensus that this is a regional economy and we're all in this together. There's a lot of poverty in the city and a lot of wealth out of the city. Build on the assets provided by previous mayors and be better than they were.
Bart Peterson: Be a unifier and be ambitious. Be about bringing people together, and don't follow the path of many other cities where leadership has divided people and produced bad consequences in a very short time. Competition among cities is moving fast in the United States and globally. Many cities have visited here and they're using our formula successfully. To compete, get to work on the first day and believe you have a short time to accomplish a lot. You'll produce the results you want if you're ambitious and approach your job in this way.
Greg Ballard: Basics are important and always challenging. Get good people to handle these jobs. But, while you're doing that, look to where the future is going to be, then beat every other city to it. This takes a lot of research, but if you have this mind-set, you'll attract and retain the talent necessary to make the city great and successful in the long run.
There you have it. Sage advice from five mayors who know what it takes to be a great leader and successful mayor. Now it's time to make up your mind who should be the next mayor and VOTE on Nov. 3. After that, let's all get behind our newly elected mayor and help whoever it is make our city an even better place to live and work. Best of luck to all of us.•
__________
Morris is publisher of IBJ. His column appears every other week. To comment on this column, send e-mail to gmorris@ibj.com.
Please enable JavaScript to view this content.