Fishers will spend about $40,000 and Noblesville about $33,000 to open the polls across their cities on Election Day, even though voters who go will find only one contested race on their ballots.

That's because Republicans dominate Hamilton County politics and Democrats barely bother to participate.
"Do I wish there was more Democratic involvement in Hamilton County? Absolutely," said Greg Purvis, the lone Democrat running for a seat on the Fishers City Council. He also ran unsuccessfully in 2011. "All I can do is my little bit."

Purvis
In recent years, only a handful of Democrats have run for office in Hamilton County. That means almost all Republican candidates are uncontested in the November general elections, making the May primaries the place where most elected officials are actually chosen. This year, only two of the county's four cities—Fishers and Noblesville—will hold a general election because so few Democrats file for office.

But local governments are still on the hook for election costs—even if just one race is on the ballot.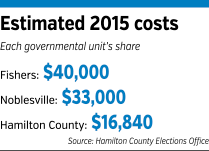 Municipalities are required to pay for all direct election expenses, including poll workers, supplies and meals. Cities split the bill with counties for shared expenses, including ballot counters and machine set-up, regardless of the number of contested races.

Purvis said he runs because he's interested in city government and he's one of the few residents—regardless of party affiliation—who pays attention. Plus, it gives people another option.

"One-party government scares the daylight out of me," Purvis said. "I don't care what party it is."

Still, there's a good reason few Democrats seek public office in Hamilton County. Most voters there—like most of the candidates—are Republican.

In the 2014 secretary of state's race—a contest in which observers say voters are more likely to pick a candidate based on party than on personality or credentials—about 70 percent of Hamilton County voters cast ballots for the Republican. Another 27 percent voted for the Democrat and 3 percent for the Libertarian.

Statewide, 57 percent voted for the Republican in that race.

Political observers say it's possible Hamilton County has more Democrats than election results suggest, but they say the atmosphere isn't likely to change.

Downs
"A lot of people do wonder why it is as Republican as it is," said Andrew Downs, director of the Mike Downs Center for Indiana Politics. "It's so well understood that it's not a place where Democrats are going to do well."

Demographics suggest some reasons. About 88 percent of Hamilton County residents are white. More than half of the county's church-goers are evangelical or mainline Protestant. Both are indicators of Republican support.

But that's not a complete explanation. The county has slightly more women than men and residents there are more highly educated. Both of those groups are more likely to vote for Democrats.

Purvis has a much simpler explanation than detailed demographics. He said it's like the chicken and the egg.

"If Democrats had more success, there'd be more candidates, but you need more candidates to have more success," he said.

Democrats have occasionally tried to shake up the status quo. In 2007, Carmel had a full slate of Democratic candidates in the general election, but none won.

"They got clobbered, and that was very discouraging to some people and they just wouldn't run anymore," Purvis said.

Brainard
Carmel Mayor Jim Brainard, who won his Republican primary race in May with nearly 63 percent of the vote, said local Republicans continue to dominate elections because they have successful records while in office.

Since the primary, Brainard has argued that the results proved a majority of residents support the direction he's steered the city.

But Brainard received about 9,500 votes, which is only 17 percent of the city's voting-age population.

He said if people had concerns about Carmel elected officials, there would be more competition in elections.

"I think part of it is, Democrats don't see a need," Brainard said. "They see we're making progress in the city. That's what I'd like to believe, at least."


Purvis argued that Democrats—or people willing to vote for Democrats—exist in Hamilton County even if they don't make up the majority of voters.

He said in previous elections the county has been among the highest for Democratic voters in the state. In 2008, for example, Hamilton County had the fifth-highest number of votes in Indiana for President Barack Obama.

However, the county also has one of the highest populations in the state, and it had the second-highest number of votes for Republican presidential candidate John McCain. Obama lost the county by nearly 29,000 votes.

Downs said the 2008 general election is actually an example of how poorly Democrats perform there because, even in a year when the majority of the state voted for Obama, he received only 38 percent of the Hamilton County votes.

"When you see that, you start to realize, 'I have little to no chance of winning this election, so why run?'" Downs said. "The people who give money to campaigns, they see that, too."

Purvis has raised less than $2,000 since the primary and has spent only $2.04 in his effort to pick up one of the council's three at-large seats. His opponents—Republican incumbents Richard Block, Cecilia Coble and Todd Zimmerman—have each spent more than $1,000.

Coble is the only candidate who has raised less than Purvis since the primary, but she has about $3,500 more cash on hand than Purvis.

"You don't have to have the most money, but you need to have enough money," Downs said. "But you're not even getting to enough money."

Politicians on both sides of the aisle have suggested making local elections nonpartisan, arguing that most issues in local races don't align with political parties. Think trash collection, snow removal or land annexation.

"I think that'd be a much better system for Indiana at the local level," Brainard said. "It's about providing good, efficient services, and there are good candidates on both sides of the aisle."•