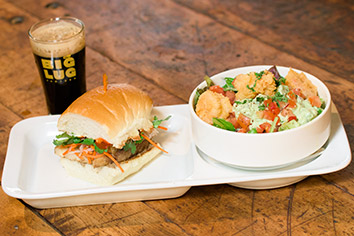 Editor's note: Early versions of this story misidentified the restaurant as Big Lug Cantina. The author regrets the error.
I won't try to convince you that Big Lug Canteen's website statement—"nothing we serve can be considered groundbreaking or modern"—is incorrect. Nothing I found there is groundbreaking. And it certainly isn't modern.
But what's served up at the new Big Lug Canteen (1435 E. 86th St., 672-3503) is good—very good—and it does a solid job of differentiating itself from the parade of brew pubs that seem to be popping up on a monthly basis this year. The two-story eat-and-drinkery looks nothing like the Snooty Fox, whose space it now occupies.
Our starting point was the Vegetarian Poutine ($7), French fries deliciously calling out for mercy from under a blanket of gumbo, amorphous cheese curds and scallions. You can also get a Classic version ($7) with poutine gravy or with Smoked Pork Belly ($9).
With such a sizable first course, we opted for Big Lug's Half N' Half option, pairing a half salad and a slider or half of any hoagie, then knocks $2 off the tab. The Shawarby's Slider ($6) presented a well-meated roast beef sandwich with Muenster cheese, lettuce and Greekamole (a guacamole/tzatziki hybrid) gently packed into a light knot bun. We combined it with a half Shrimp Goddess Salad ($7, $12). Fried shrimp on salad might dilute its healthiness, but these made an already satisfying salad even better.
Our second duo was anchored by half a Bahn Lug ($7/$11 and, no, I'm not sure if the spelling on the menu is a typo or just a shot at creativity). Smoked pork belly, chicken pate, banh mi veggies, Sriracha, herb mayo and fresh cilantro might sound busy, but this banh mi variant proved smartly layered. While it might not match the authenticity of your favorite Vietnamese restaurant, it went down smoothly. Its companion salad, The Shrek ($6/$10), allowed bacon and grilled chicken to make nice with dried cranberries, red onion and a cranberry dressing.
There's also a Canteen Classics corner of the menu with hot dogs and walking tacos for those who want to just grab a bite at the bar or after a Monon Trail trek.
And while there were no desserts, there was no shortage of treats courtesy of Big Lug's brew tanks. A plus for those who like to sample more than a beer flight's sip without committing to a full beer, Big Lug offers $3 seven-ouncers, which introduced us to its Taft Draft IPA, Kristofferson American oatmeal pale ale, and citrusy Quintana.
Another quote from the website: "Masters of Decent. Genius in Pretty Good."
I beg to disagree. Nora now has a more-than-decent, better-than-pretty-good bar that's both friendly and budget-friendly.•
Please enable JavaScript to view this content.