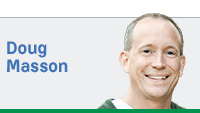 We as a nation have a firearm problem. Mass murder by firearm is a steady drumbeat in the news. As The Onion put it: "'No Way To Prevent This,' Says Only Nation Where This Regularly Happens."
In Australia, a 1996 massacre prompted sweeping gun regulation. A study of the Australian reform laws conducted a decade later showed that, in the 18 years before the reforms, there had been 13 mass shootings. In the 10-1/2 years after, there had been zero. According to the study, the reforms reduced firearm-related deaths, suicides and homicides. There was, further, no evidence that individuals had substituted other weapons to commit those suicides and homicides.
If firearm deaths continue at their current rate in the United States, it's not because we can't do anything about the problem. It's because we don't want to. The problems associated with firearms can be addressed through government regulation. Such problems have been addressed through government regulation in other countries.
But Americans love guns. One wag discussing gun violence at schools quipped that, in this country, it would be easier to do away with schools than regulate guns. Locals like to point to Chicago's firearm violence problem and stricter gun laws as evidence that laws can't mitigate the problem. They don't like to recognize that a lot of Chicago gun violence is committed with Indiana guns. Another favorite is to blame mental health without acknowledging that the firearm is a force multiplier and, certainly, without advocating the sort of government spending necessary to improve access to mental health care in this country.
Others recognize that regulation of firearms in other countries has, in fact, reduced deaths and injuries. Their rationale for inaction is that the Second Amendment precludes implementation of meaningful regulation. They get somewhat vague when asked to explain the import of the "well-regulated militia" language in the text, apparently regarding it as some vestigial appendage. The "well regulated-militia" is the coccyx or appendix of the Bill of Rights.
I tend to think the Second Amendment can be read to accommodate regulation of firearms, particularly as a balance where firearms are having a serious impact on life, liberty and property of other citizens.
I propose an insurance regime of sorts for firearms. It would feature two basic revenue streams. Both would fund a victim compensation fund to assist those who became victims through no fault of their own.
The first stream would be, essentially, a surcharge on firearms with the amount of the charge based on the frequency and extent of harm caused by that type of firearm. Types of guns used in robberies and mass shootings should cost more than firearms almost never associated with tragedies.
The second stream would be a sort of experience account paid by dealers. Some dealers seem to suffer from extremely bad luck when it comes to having their firearms crop up in the midst of criminal activity. They should pay more than those whose business model does not lend itself to criminal acquisition of firearms.
Perhaps by internalizing some of the externalities in the commercial firearm business now borne by innocent victims, we can harness market forces to mitigate some of the problems that are, for some reason, uniquely American.
Perhaps that proposal would not be effective. I am certainly open to alternates. However, continuing to do nothing and shrugging helplessly as the body count rises is not an attractive option.•
__________
Masson is a Lafayette attorney, author of Masson's Blog and former counsel for the Legislative Services Agency. Send comments on this column to ibjedit@ibj.com.
 
Please enable JavaScript to view this content.