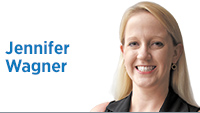 The 2015 municipal election is now squarely in the rearview mirror.

There were winners. There were losers. There was low voter turnout across Marion County.

And that gives us a chance to reflect not on those elected to serve, but instead on an underappreciated office that rarely attracts attention unless something goes haywire on Election Day.

With the exception of the happy task of issuing marriage licenses, the Marion County clerk oversees a panoply of important but not particularly uplifting duties: collecting child support, administering court filings, maintaining old records and running our local elections.

It is this last item to which political insiders and members of the media pay the most attention.

If you are a member of the opposite party of the clerk, you are constantly watching to see if mistakes are made that you can use to make political hay.

Did the polls open on time? (Rare is the election where every "Hear ye, hear ye" happens right at 6:01 a.m.)

Were there enough poll workers? (There never are. You try getting even your closest friends to sign up for a 14-hour marathon of idle chitchat where maybe a couple hundred people come through the door to cast a ballot.)

Did anything happen to cast doubt on the process? ("That person didn't have watcher credentials! I can't believe so-and-so was allowed inside the chute! Some guy snatched campaign materials right out of that candidate's hand!")

If you are a member of the media, you're looking for the same story lines without any partisan motivation. After all, covering a slow election as a journalist is just as boring as working one: You have a news void to fill, but you really don't know much until the polls close.

It takes thousands of people to make sure your vote counts. It's a massive operation to train workers, staff early voting for four weeks before the election, and get materials and machines to polling places on Election Day.

And yet, neither on that day nor in the months of preparation beforehand, do many folks ever stop and say two magic words to the clerk and her undercompensated staff: Thank you.

That's why I'm writing this column.

I know the last three elected clerks, and they are all strong, capable women who worked hard as public servants.

They also endured a lot of grief during their time in office, and I want to give them credit for taking on a tough job that directly affects our democracy.

Now, there are solutions to consider that could help make the job less difficult and less expensive, especially given the miserably low turnout that's become a hallmark of the odd-year cycle.

One idea: Shorten the municipal election cycle by having everyone run in the primary. If someone gets more than 51 percent, there's no need for a general election.

We also could move the municipal election to the presidential midterm year, though that could dilute the level of attention paid to important mayoral and council races.

Whatever changes are made to reduce the cost and frequency of elections, it's unlikely that the job of running them will become any less thankless.

And so, on behalf of those folks who cast a ballot this year, I want to express my gratitude to Marion County Clerk Myla Eldridge and her staff for all they do to make sure we can make our political choices each cycle.•

__________

Wagner is a lifelong Indianapolis resident and founding principal of Mass Ave Public Relations, a local public relations and publicity firm. Send comments on this column to ibjedit@ibj.com.