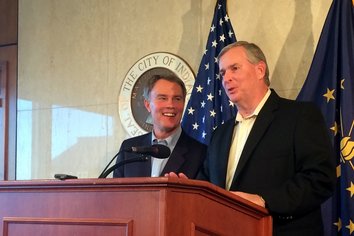 Republican Mayor Greg Ballard spent part of his Election Day cheering on Democrat Joe Hogsett's opponent in the Indianapolis mayor's race.
But Wednesday morning, the two appeared together as Ballard congratulated Hogsett, the mayor-elect, on his victory and ensured a smooth transition to the office. Hogsett easily coasted to a victory in Tuesday's election, winning 62 percent of the vote. His opponent, Chuck Brewer, earned 38 percent. About 22.7 percent, or 150,450, of Marion County's registered voters turned out for the election, the lowest showing in more than two decades. 
"I'm very proud of the work we've accomplished together," Ballard said. "Joe, it's all yours."
Ballard said he has formed a transition team and will encourage his department directors to gather data that will be helpful to the next administration.
"I want to be clear the priority over the next couple of months will be to make sure we have as smooth and productive transition as possible," Ballard said.
Hogsett said he would continue that spirit of bipartisanship when he takes office. He said he wants to use Ballard's legacy as his foundation.
"Not one of (Indianapolis' recent mayors), once elected, have sought to roll back or de-fund or undo anything that his predecessor has accomplished and that is the spirit I present myself today," Hogsett said. "The legacy left by Mayor Ballard, I think, history will reflect on it very well."
He even praised two of the programs—the Vision Fleet electric car contract and BlueIndy car-sharing service—that Democrats on the Indianapolis City-County Council have spent the last year fighting.
"From a conceptual standpoint, BlueIndy, Vision Fleet, I think are great ideas," Hogsett said. "The biggest criticisms haven't been necessarily on the merits but rather the way the decisions were made. Frankly, I'm not going to focus on a lot of the past. I want to be the kind of mayor that focuses on the future."
Hogsett said he hasn't had much time to think about who will fill key roles in his administration, including public safety director or police chief, and he hasn't yet crafted a legislative agenda.
He said Republican Gov. Mike Pence called him last night to congratulate him. And he said he planned Wednesday to call Republican House Speaker Brian Bosma of Indianapolis, and Republican Senate President Pro Tem David Long of Fort Wayne, to start talking about their priorities.
Meanwhile, Ballard said he was looking forward to the last 60 days of his second term. He said he hasn't decided what he'll do after he leaves office.
Ballard said "don't count on it" to rumors that he will run for governor against Pence next year, but he didn't outright deny his interest in running for office again. He said "the timing of that just doesn't look good."
First, he said he needs some rest and to "mentally recharge." 
"I'm not there yet," Ballard said. "I'm talking to universities and I got national water and energy companies talking to me. I've got a lot of that going on right now, but I'm still kind of busy doing this stuff for awhile."
Please enable JavaScript to view this content.