Startups that tap the so-called gig economy, including ride-hailing powerhouse Uber Technologies Inc., have mostly targeted consumers. But a former Salesforce.com employee has launched one aimed at businesses—and she's off to a solid start.
The firm is called Torchlite and it connects companies to freelancers who specialize in digital marketing. It's based on the idea that some firms don't have the money or know-how to hire good Web designers, email marketers and others, and that a number untethered specialists are willing to take on these "gigs" as needed.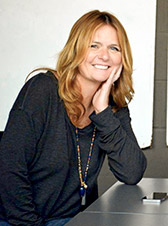 Susan Marshall (Photo courtesy of Torchlite)
CEO Susan Marshall, an alumna of Adobe Systems Inc., Apple Inc. and Salesforce, launched the firm in June. She said the company, which also provides software that tracks results, has been doubling revenue every month and is closing in on $1 million in bookings, or contractual revenue.
"At Salesforce, we saw that more and more companies needed help," said Marshall, a 48-year-old Indianapolis native. "They needed help implementing their technologies, they needed help coming up with strategies, and they needed help executing—writing emails, blogging, posting, tweeting."
The gig economy has taken off in recent years, thanks in part to shifting worker preferences and the proliferation of smartphones. Some of the companies that connect consumers to freelancers at the touch of an app include Chicago-based Dolly Inc., which is for moving and hauling, and San Francisco-based Thumbtack Inc., which is for professional jobs like painting and voice coaching. Another is Fort Wayne-based Cuttly Inc., which is for on-demand mowing.
Nichole Kelly of digital marketing firm Social Media Explorer, who follows the burgeoning business model, said she has not encountered any other companies that facilitate ways for businesses to take advantage of the gig economy.
"I think this is one of the first iterations of that," said Kelly, who advises but does not invest in Torchlite.
Torchlite works like this: A business looking to bolster its digital marketing presence signs up for an annual Torchlite subscription, which ranges from $1,500 to $5,000 a month, depending on the project. The client's business likely has a small marketing staff or no such staff at all, Marshall said.
Torchlite then taps into its network of specialists (which it calls torchliters), assembles a freelance team, and manages that team on behalf of the client. The subscription includes access to software that shows how effective the marketing campaign was, Marshall said.
"We're tapping into this collaborative economy … where experts are really gravitating, and we're skimming off the best possible talent," Marshall said. "Then we're showing the businesses through our dashboard whether or not what we're doing is really having an impact on sales or customers."
Torchlite has seven employees and more than a dozen clients, Marshall said, including companies in financial services and online retail. It has about 150 freelancers on deck.
One of the hot-button issues surrounding the gig economy involves the lack of worker protections, such as health care benefits and expense reimbursement—a disadvantage some freelancers accept in return for extreme flexibility.
Marshall said this is her first experience in this area, and she's molding her position on the issue.
"I think it would definitely become a burden on a company that's trying to grow their business through a freelancer network by, say, paying for health insurance," she said. "But there might be creative ways to help them in that area."
Marshall grew up in the Meridian-Kessler neighborhood, graduated from Denison University in Ohio in 1989, and ventured to California for a job with Macromedia Inc., which was later acquired by Adobe. Her specialty was product marketing, which entails working closely with software developers on how software is presented to and used by consumers.
In the early 2000s, Marshall said, she was among the legion of employees Apple CEO Steve Jobs hired to bulk up his company's software offerings. At Apple, Marshall led product marketing and development for several offerings, including Final Cut Pro and iCloud.
She moved back to Indiana in 2007 for family reasons, including giving birth to twins. She worked at question-and-answer startup ChaCha Search Inc. until 2010 and did a stint at ExactTarget (now Salesforce Marketing Cloud) until June.
Tim Kopp, ExactTarget's former chief marketing officer, said Marshall has a wealth of experience and her company is attacking a widespread pain point for small businesses.
"Torchlite is meeting an important gap in the marketplace, better allowing companies to quickly flex projects up and down," Kopp said. "Susan is yet another example of the experienced talent base in Indianapolis that makes us one of the fastest-growing tech ecosystems in the country."
Marshall said she's in the middle of raising seed-stage capital from local angel investors and is based at The Speak Easy, a members-only co-working space in South Broad Ripple. But Torchlite might be leaving soon.
"We're outgrowing it though, now, so we're looking for other locations downtown," Marshall said. "But it's been perfect for this incubation period."•
 
Please enable JavaScript to view this content.