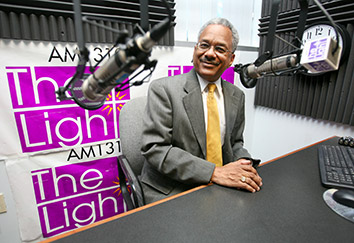 Indianapolis radio icon and activist Amos Brown, who died Friday at age 64, was remembered as "a giant in the community," and "an unwavering crusader and champion for the lost, the last and the least," as tributes poured in Saturday after news of his death spread through central Indiana.
Over his 40-year media career in Indianapolis, Brown was radio broadcaster and executive, a newspaper columnist and a TV show host. He also was an outspoken advocate on behalf of the city's African-American community.
Brown's impact reached beyond central Indiana. Music legend Stevie Wonder, in Indianapolis to perform at Banker's Life Fieldhouse on Saturday night, dedicated the concert to Brown's memory.
Chuck Williams, general manager at Radio One, the owner of radio station WTLC, where Brown worked for 40 years, said in a phone interview that it's too early to say what the station's plans are for midday time slot long occupied by Brown. He said there will be a range of on-air tributes this upcoming week.
Williams, who first met Brown when he joined the station in 2005, said: "He's a giant. He's a giant in the community. He's a giant in broadcast. He's as concerned about the city of Indianapolis and the African-American community as anybody you'd ever want to meet."
Abdul-Hakim Shabazz, a conservative who hosts the show "Abdul At Large" on WIBC, moved here from Chicago about a decade ago to do talk radio. It wasn't long before he heard Brown's radio show, which had a liberal bent, and the two eventually met at an Indy Chamber event.
 
"It was a very measured encounter, to put it mildly," Shabazz said about the first meeting. "We were trying to figure each other out."
 
Despite the political differences, the two teamed up on radio and television shows. "The Amos and Abdul Show" was the TV product, which aired on WHMB-TV Channel 40 for five episodes in 2013. Shortly thereafter came "Amos & Abdul," a weekly radio show on Fridays that lasted about a year, Shabazz said.
 
Shabazz said Brown was a passionate genius who was adept at firing off statistics. His longevity, and the fact that an urban gospel radio station slotted his two-hour talk show for the middle of the day, speaks volumes.
 
"You don't stay in business that long if you suck," Shabazz said. "I mean it's just that simple."
 
Shannon Williams, president of the Indianapolis Recorder, said she first met Brown after she joined the newspaper in the early 2000s. Their fervent interest in covering the minority issues and perspectives that mainstream media often overlook yielded innumerable conversations between them, she said, and Brown exuded that fervor on air and in person without fear.
 
"Often times African-Americans are underrepresented or mistreated to a degree," Williams, 38, said. "He was a person who spoke out against those ills. He was a person who went to the powers that be and said, 'Hey, you can't do this to our community.'"
 
Williams also noted Brown's statistical skills, and she said his column, which was in its 21st year, was the most popular part of the paper.
 
"People always say they go to the editorial section first, then read the paper backwards," Williams said. She later added. "I'm a journalist, and I don't even know if I can put into words what he meant to this community."
 
Following is more reaction to Brown's death:
Ann D. Murtlow, United Way of Central Indiana CEO
"A champion for those living in poverty, Amos Brown approached human services issues with a mind toward facts and figures and a heart toward equality and justice. His passing leaves a void that will be impossible to fill in our community."
Mike Pence, Indiana governor
"For more than 40 years, Amos dedicated his life's work to amplifying the voice of the Indianapolis community. From his studio and in countless civic causes, Amos Brown worked each and every day to improve the lives of his listeners and better our capitol city.
 
"While our politics often differed, Amos Brown never let that stand in the way of friendship and I will miss him very much. His example of civility and respect was a testimony to the character and heart of this good man.
 
"He leaves behind a lasting legacy and impact on this city and state that will never be forgotten."
Tanya Bell, Indiana Black Expo president
"The board, staff and members of Indiana Black Expo are truly saddened by the passing of Amos Brown, a life-time champion of justice and equality for the African-American community and the underserved. Our thoughts and prayers are with his family, our Radio One family and our entire community. His passion and voice will be sorely missed. Amos defined his life through an unwavering and unparalleled commitment to public service, advocacy and leadership."
Joe Donnelly, U.S. senator
"Amos was a once-in-a-generation community leader and a tireless advocate for Hoosiers and all those who didn't have a voice. Everyone in Indiana knew Amos and had so much respect for his work in the community. There will be others who will take up his causes and speak to the same issues, but there will never be another Amos."
James Danko, Butler University president
"Amos was an extraordinary civic leader who helped bridge cultural divides and create greater understanding in our city. He was also a great friend to Butler, serving for decades as the master of ceremonies for our Celebration of Diversity Distinguished Lecture Series. Our hearts go out to his family and friends. He will be missed."
David Harris, The Mind Trust CEO
"In so many ways, Amos Brown was the conscience of the Indianapolis community. Whenever there was a wrong, he tried to right it. Whenever there was injustice, he shone a light on it.  And whenever someone in this city needed help, Amos was there to lead the way.  
"In this community, he forever will be remembered as an unwavering crusader and champion for the lost, the last and the least. There will never be another Amos, and we can't imagine going to work on Monday without him on the air."
 
Indiana Republican Party
"The Indiana Republican Party is shocked and saddened at the passing of Amos Brown. He was a fighter, an Indianapolis icon, and a radio Hall of Famer. We extend our most heartfelt condolences to Amos's family. He will be deeply missed."
Justin Ohlemiller, Stand for Children Indiana executive director
"Every day for so many years, Amos was a strong voice for thousands across our city. He was an unshakable advocate for the needs of everyday people, and a consistent champion for justice and equity. For those being treated unfairly, Amos made a career out of amplifying their issues and concerns–speaking out and speaking up to ensure his fellow citizens were heard by our city's leaders."
Max Siegel, USA Track & Field CEO
"Amos Brown was a champion for the city of Indianapolis and all of its residents, especially for those whose voices often weren't heard by those in power. Our city was made better by his efforts on the air, in the community and in the lives of the people he personally touched every day. He is absolutely irreplaceable."
 
Please enable JavaScript to view this content.