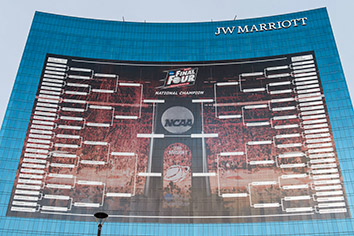 The NCAA is moving its March Madness selection meeting from the group's headquarters city of Indianapolis to the media capital of New York City.
The meeting to set the men's basketball tournament bracket and seedings for years has been held in Indianapolis and, before that, in Kansas City.
Joseph Castiglione, chair of the Division I men's basketball committee and Oklahoma athletic director, said Thursday that next March's move is intended to raise the profile of the session.
He said it also provides "countless" more opportunities for media, including March Madness broadcast partners Turner and CBS.
"Our motivation behind this change is simple. We want even more focus on selection week, which will give March Madness considerable momentum heading into the best three weeks of the year," Castiglione said. "New York provides us with countless platforms to provide insight and share updates on where the committee is with the process of building the bracket. It's also an opportunity to have candid conversations with media outlets after the bracket has been unveiled."
Local officials learned of the NCAA's decision to move the selection meeting earlier this month.
"As a city, we've been fortunate to be able to partner with the NCAA for decades. … While we're sad to see this event leave, we're confident in our overall partnership with the NCAA," said Visit Indy Vice President Chris Gahl.
The meeting, which consists of fewer than two dozen people, is not a major economic driver, but did draw media attention from the likes of CBS, Turner Broadcasting and ESPN through interviews of NCAA selection committee members.
"While it's hard to assess the exact value of a meeting like this, we know it helped turn the attention toward Indianapolis from a media and overall marketing perspective," Gahl said. "Having said that, with events like the Women's Final Four coming next April, we have the ability to turn the attention back on Indianapolis."
The NCAA said Thursday that officials approved the change in location for selections at its fall meeting in Phoenix, which is the site for the 2017 Final Four.
 
Please enable JavaScript to view this content.