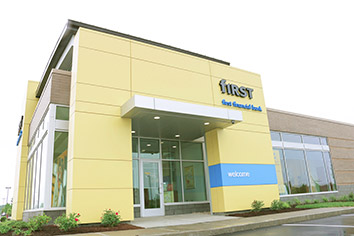 When Warsaw-based Lake City Bank entered the Indianapolis market in 2012, it quickly scarfed up $57 million in deposits.
Since then, the bank has grown local deposits more than fourfold, placing it among the area's fastest-growing banks. It has three high-profile branches and, at a time big banks are cutting locations, it plans to open another next year.

Findlay
"For us to grow from $57 million to nearly $270 million in that short of a time period really represents the fastest deposit growth in any market we've ever entered," said Lake City CEO David Findlay. "The Indianapolis market has been exceptional from a deposit-gathering perspective."
Lake City is among several out-of-town community banks that have launched a full-court press on Indianapolis over the past decade and are seeing solid traction.
They're coming here because per-capita income and populations in their own back yards are growing more slowly and, in some cases, even declining, industry experts said.
Recent research from the Indiana University Kelley School of Business found the Indianapolis area added 18,000 residents from 2013 to 2014, accounting for roughly 70 percent of the state's population growth.
Researchers noted that, among the Midwest's 15 largest metro areas, Indianapolis ranked fifth, with a 0.9 percent growth rate. Louisville grew 0.6 percent and Cincinnati, 0.5 percent.
"Some banks are based in smaller towns that don't see growth," said Mike Renninger, a bank industry adviser with Carmel-based Renninger & Associates.
Merchants Bank of Indiana, under the guidance of veteran Indianapolis mortgage bankers Mike Petrie and Randall Rogers, has been especially aggressive in pursuing that strategy.
The pair acquired tiny Greensfork Township State Bank in Lynn, in 2004, which four years later established a central Indiana foothold by buying Symphony Bank in Indianapolis.
The merged bank—which adopted the Merchants Bank of Indiana name in 2009 and is now based in Carmel—had $124 million in local deposits in 2010, according to Federal Deposit Insurance Corp. data.
That figure swelled to $1.4 billion this year, propelling it from No. 27 in 2010 to No. 8.
Just getting started in the Indianapolis market is Merrillville-based Centier Bank, which established a loan-production office in Carmel in late 2011 and now has one branch in that city and recently opened an office in downtown Indianapolis. It has grown deposits from $1.2 million to $32 million since 2012.
Muncie-based First Merchants Bank grew deposits from $103 million in 2009 (shortly after it acquired Lincoln Bank for $77.3 million) to $1.23 billion as of June 2015. The 12-fold increase helped it jump from No. 30 in local deposit share in 2009 to No. 10 this year.
Rechin
"We're enthused about the overall market," First Merchants CEO Mike Rechin said. The bank holds 2.9 percent of the $41 billion deposit market, a figure that will increase when the bank completes its $69 million purchase of New Castle-based Ameriana Bank.
To be sure, big banks still dominate the market. JPMorgan Chase Bank sits atop the hill with $10 billion in local deposits, 24.2 percent of the market, followed by PNC Bank and Fifth Third Bank.
But out-of-towners like Evansville-based Old National Bank have cracked the Top 10, and their smaller counterparts are leaping over longtime players here.
Some of the newer players are getting noticed with aggressive market and product offerings, such as Lake City's checking accounts that pay a half percentage point in annual interest.
Several of the banks tout a local touch they say big banks can't offer—even though they themselves aren't technically local.

Spicer
"While they have market offerings, all of those decisions run through umbilical cords back to the home office," First Financial Bank Market President Steve Spicer said about large banks. "We wanted to go with what we call a market model … so the decision-making is pushed down to the marketplace level."
First Financial Bank entered central Indiana in 2009 after taking over the loans and deposits of the failed Irwin Union Bank and Trust in Columbus.
Spicer said the idea was to branch out from the bank's headquarters in the small town of Hamilton, Ohio, to achieve a growth rate better than 1 percent a year. In pursuit of that goal, it planted stakes in Cincinnati and Columbus, Ohio, and here.
Since then, the bank has nearly doubled its deposits here, from $250 million in 2010 to $496 million. It employs about 110 locally, Spicer said, and recently opened a branch in Avon.
While First Financial, First Merchants and others entered Indianapolis through acquisitions, banks such as Lake City and Centier are building their presence from scratch.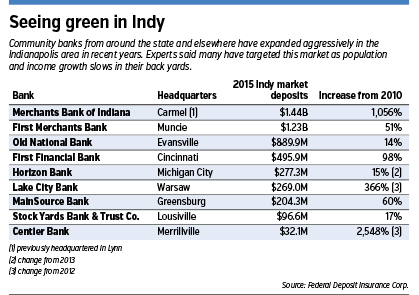 "We have not been an active player in the merger-and-acquisition market," said Findlay, the Lake City CEO. "I think the greatest benefit to the organic growth strategy is … it allows us to maintain the internal culture that has made the bank successful over the last 143 years."
The small, out-of-town banks aren't necessarily nabbing deposits from the big banks. For the most part, they're grabbing a piece of the growing deposit market, which swelled from $31 billion in 2010 to $42 billion in 2015, according to the FDIC.
Still, some of the big banks, including PNC, have lost market share. While it remains the area's second-largest deposit holder, PNC has seen its deposit share fall from 22.1 percent in 2010 to 18.8 percent.
The smaller banks have made headway despite increasing regulatory burdens, such as the Dodd-Frank Act enacted in the wake of the financial crisis, and despite lacking the wherewithal to roll out technological innovations at the scale and speed larger banks can.
But the out-of-town banks are attracting talent, including local veterans. First Financial hired Spicer, who has worked 30 years in the industry at firms including M&I Bank, in 2013.
Seven of the top 10 banks in town are national and regional banks not based in Indiana, and it's unlikely they'll lose their grip on local deposits anytime soon. But the smaller outfits are showing that community banks are still relevant, said Mike Renninger, a bank industry adviser with Carmel-based Renninger & Associates.
"Community banks of a certain size can compete against the biggest banks in the country," Renninger said. "But the smallest banks will struggle with the systems and personnel necessary to keep up with government regulation and customer demand."•
Please enable JavaScript to view this content.