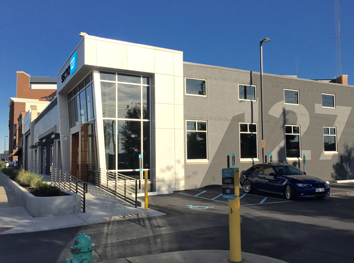 Sport Graphics Inc. is expanding its creative division, re-naming it Section 127 and moving it downtown into the shadow of Lucas Oil Stadium.
Section 127 this month finalized a 10-year lease for more than 11,000 square feet at 425 W. South St., Sport Graphics CEO Frank Hancock said Thursday.
The build-out of the space—which will cost Sport Graphics about $750,000—will begin soon. The company plans to move the division out of its far-east-side headquarters and into the downtown space next spring, he said.
"This transition will allow us to expand our footprint in the market as a full-service creative agency, and offer an innovative and collaborative space in close proximity to our clients located downtown," said Angela Hill, Section 127's president and Hancock's daughter, in written remarks.
Section 127 now employs 33 people, has added 10 in the last three months and expects to add at least seven more by the time the division moves in March. The division offers a number of services.
"We thrive on creative problem-solving through strategic thinking to serve our clients' needs," Hill said. "Our knowledge gained through our parent company, Sport Graphics, has afforded us a unique level of industry capabilities including creative consulting, environmental design, multimedia, marketing, branding and event experiences."
Section 127 will compete with other area advertising firms, Hancock said, but he feels the division will stand apart.
"We are the true meaning of a full-service agency," Hancock said in an e-mail. "Coming from our manufacturing background, we see the project, brand, event through its entirety and see it from the holistic scope. We are not a typical agency where we design concepts and just push files to vendors. We design them and execute them to the full level of how it was designed. That is a huge benefit to a client to ensure what is designed conceptually, is what they receive."
The company's name and its unique back story may also help it stand out in the crowded advertising and marketing industry.
Section 127 was named for Hancock's phone extension at the Sport Graphics facility.
Pages from Hancock barking for a person to "call 127" have become common at the Sport Graphics plant.
"I tend to use the page-all system when I am fired up to page the plant for a staff person or to drive a message to all staff the loud way," Hancock explained. "It's been like a death notice for some and a good laugh for others. So, knowing I won't always be around ,  they picked 127."
Sport Graphics was launched in 1986 by Hancock and his wife, Linda. It started downtown, but moved to a larger production facility on the far east side to accommodate growth.
"At 67, I feel like Moses, bringing my people and Sport Graphics back down to the promised land—and like Moses, I won't have an office there [downtown], either, but will continue to work out of our far east-side manufacturing facility," Hancock said.  
Initially Sport Graphics primarily produced game programs and other printed materials for clients such as the Indiana Pacers and Indianapolis Colts before grabbing the attention of national clients, including the NCAA and NFL. In the early to mid 2000s, the company began printing signs—ranging in size from small to massive—and materials for NFL Super Bowls and NCAA Final Fours. It now does a wide range of work outside of sports.
Sport Graphics, which now has 110 employees, has become nationally known for the huge colorful banners it produces, including one of the Lombardi Trophy that was displayed on the east side of the JW Marriott in downtown Indianapolis during the week of the 2012 Super Bowl.
If it wasn't for a tornado in 2002 that destroyed a good portion of Sport Graphics' facilities, Hancock said the firm likely wouldn't be in position to take on projects such as the Super Bowl.
After the tornado, Hancock said he decided to shift Sport Graphics' focus from printing to sign-making. That decision proved wise, as the company doubled its annual revenue to more than $25 million in the decade after the tornado.
Sport Graphic has transitioned from a company that generated 80 percent of its revenue through printing in 2009 to one that now generates 80 percent of its revenue through creative work, project planning and signage, Hancock explained.
"The printing company declined, as all printing has, while a new Sport Graphics opened within the old," Hancock said. "We've had a complete transition of the business without missing too many beats."
The company's revenue recently has been mostly flat while the business changed, but that's about to change, Hancock said.
"I have recently expanded our sales staff and expect Section 127 will help drive a 15 [percent] to 20 percent annual growth rate going forward," he said.
Section 127 was recently awarded a multi-year design contract with the NCAA after competing in an extensive request-for-proposal process, Hancock said. Other current Section 127 projects include Indiana University's Assembly Hall renovations and the Indianapolis Motor Speedway's Project 100 and Centennial Year campaign.
Kyle Eaker, executive creative director, will lead Section 127's design studio. Kassie Mills, account supervisor, will lead account team's effort to expand the firm's capabilities to include strategic marketing and branding consultation, Hancock said.
 
Please enable JavaScript to view this content.