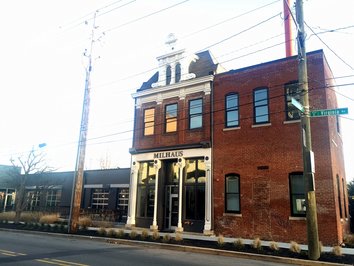 Indianapolis-based real estate firm Milhaus plans to expand its operations in Indiana, adding 250 jobs over the next five years, the company and state officials announced Tuesday morning.
Milhaus is the parent of several real estate-related companies: Milhaus Development, Milhaus Construction, Milhaus Management and Ineo. The company, founded in 2009, is best-known for its local apartment projects, including Artistry, Circa, Maxwell, Mozzo and Penn Circle.
Company officials said they plan to spend more than $1.6 million before the end of 2020 to lease and equip Milhaus' headquarters space near downtown, at 460 Virginia Ave., in the Fletcher Place neighborhood.
Milhaus moved into the space in May after redeveloping a 12,000-square-foot historic property once known as the Shirley Engraving building. Additional staff will be added at the headquarters, but most of the new hiring will come from staffing new and acquired properties around that state, the company said.
The company said it has 116 full-time employees in Indiana and 28 others throughout the Midwest. It plans to hire employees in management, information technology, finance, sales and marketing, transaction processing and administrative support.
Average wages are expected to be above the state and county average, the company said.
The Indiana Economic Development Corp. offered Milhaus up to $2.2 million in conditional tax credits and up to $100,000 in training grants based on the job-creation plans. The incentives can't be collected unless Milhaus meets the job commitments.
The Milhaus development portfolio recently surpassed 24 properties valued at more than $540 million that house 4,500 residential units. Besides Indiana, the company has projects in Kentucky, Missouri, Ohio, Oklahoma, Pennsylvania, Tennessee and Wisconsin. It specializes in urban infill projects in top submarkets.
The company's goal is to have 20,000 units worth $4 billion in 10 markets by 2020.
"We know our 20,000-unit, 10-market, $4 billion-value goal is lofty," said CEO Tadd Miller said in a written statement. "But at our current pace, it's not impossible to think we may exceed these goals. And with some of the recent additions to the team, as well as this support from the state of Indiana, we continue to build the capacity to make this a reality."
Please enable JavaScript to view this content.