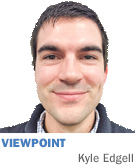 Indianapolis has an opportunity to advance neighborhood economic development, achieve a healthier population, reduce hunger, improve education outcomes, and realize health care savings. These issues are deeply connected and success can be achieved through a focus on food.
Mayor-elect Joe Hogsett stated in his neighborhood plan that he would appoint a full-time staff member dedicated to food security in neighborhoods. This is a great step that opens the door to address broader food system issues and opportunities.
The new mayor should go further and appoint a food policy director to provide leadership and coordination around food issues in city departments and across the community. This expanded focus touches the breadth of opportunity that exists to use food to achieve a positive impact in economic development, public health, public safety, education, transit, land-use planning/zoning, and waste management.
Consider economic development. Study after study has shown that, in nearly every urban area, the demand for local food outstrips the available supply. This includes Indianapolis, where the success of local food businesses like Green BEAN Delivery is evidence of this growing demand. A food policy director can continue to leverage city resources to attract food businesses, such as Sustainable Local Foods Indiana, a 61,000-square-foot hydroponic growing facility that recently launched in the Englewood neighborhood, or Purdue Extension's urban farm incubator at West 25th and Rader streets.
Or take public health. In the last 15 years, the adult obesity rate in Indiana has risen from 15 percent to nearly 33 percent. Yet in 2014, Indianapolis remained one of the worst cities in the country for resident access to good food. Roughly 170,000 people in Marion County are food-insecure, including 51,000 children. With $500 billion of health care spending dedicated to diet-related disease across the U.S., we can't afford to ignore these issues. A food policy director can draw public attention and coordinate resources that will help Indy rise up from the bottom of the list.
There are also untapped public safety and educational opportunities. Summer programs like the Paramount School of Excellence STEAM program and the Indy Urban Acres TeenWorks partnership highlight the potential for a more comprehensive, city-wide summer youth work program rooted in food. Integrating outdoor learning and growing experiences can be transformational for Indianapolis youth. If youth grow food, they're also more likely to eat it, and we know good nutrition is key to learning. A food policy director can work with schools and community stakeholders to develop these opportunities.
Transit, land-use planning/zoning and waste management all touch on food issues. The proposed bus rapid transit system, starting with the Red Line, would be huge for residents who lack reliable transportation to shop for the food they need. Land-use planning and zoning requirements have deep influence on the future of urban agriculture in Indianapolis and the potential development of a food enterprise zone.
Food waste makes up about 18 percent of our waste stream nationally and could be diverted to create compost, thereby reducing methane emissions from landfills. A food policy director can ensure these food issues embedded in city government are kept in view.
Food, agriculture, the economy and our health are inextricably linked. Hogsett has shown tremendous vision in recognizing the importance of food security for Indy neighborhoods. A more holistic approach would take advantage of the true potential of food to help heal our great city.
To read the Indy Food Council's open letter to Hogsett and 16 food policy opportunities in Indianapolis, visit www.indyfoodcouncil.org.•
__________
Edgell is co-chairman of the Indy Food Council and public affairs manager at Green BEAN Delivery.
Please enable JavaScript to view this content.