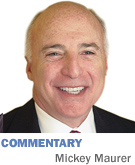 "Mickey is not a stock analyst. His recommendations are dangerous and irresponsible." —Anon, circa May 2008

Psst: Want to take a flyer on a local company and a resourceful guy?
Emmis Communication Corp. (EMMS) has been trading under $1 since Oct. 23. According to the requirements of the NASDAQ exchange, a listed company is required to maintain a share price above $1 in order to maintain its listing. If a company is in violation for 30 consecutive days, NASDAQ will send a "deficiency notice" giving the company 180 days to comply with the listing standards by maintaining a share price in compliance for at least 10 consecutive business days in the 180-day period.
Delisting jeopardy has been averted three times by Emmis in a little more than a half dozen years. Each time, CEO Jeff Smulyan rallied the stock above $1 for the required 10 consecutive business days. The stock is trading at 61 cents per share, near its low for the year.
Please refer now to the quote at the top of this column. A quick scan of the research materials did not uncover a single service that has issued a buy recommendation. I instructed my broker to purchase Emmis on Dec. 7, coinciding with the publication of this column.
Emmis owns 19 FM and four AM radio stations. A little more than a decade ago, the market recognized the monopoly that radio companies shared and rewarded their cash flows with robust multiples. Emmis traded as high as $62 a share.
I was in the radio business for more than 20 years, the last dozen operating WZPL-FM, WTPI-FM and WMYS-AM in Indianapolis. But the game was changing. "Time spent listening," an important measure used by advertisers to judge radio popularity, was waning and the industry was losing its youthful listeners to iPods and other electronic devices. Satellite radio, meanwhile, loomed as a growing threat to terrestrial licensees. We were fortunate to find buyers who didn't see the industry the way we did.
Why didn't Smulyan exit radio? Before the precipitous decline in radio values, Smulyan also had a feeling that radio's lofty multiples made no sense. Emmis had abundant capital resources but became radio shy. Adviser McKinsey & Co. recommended a foray in the broadcast television industry.
Most markets had only three network television stations, and most advertising buys included all three. Emmis was intrigued. The company bought television stations and worked its radio magic— increased ratings followed by increased sales—but Smulyan soon reached a distressing conclusion. Subscription television was going to consume free TV. ESPN starts the day with $5 per subscriber. That translates every year to about $5.25 billion in the bank—before selling a single commercial. Network TV stations (ABC, CBS and NBC) start every year at zero.
Smulyan knew it was time to exit TV. He reasoned that since ESPN, HBO, Nickelodeon and VH-1 were getting the subscription fees, soon all the content was going to go to them. Other television operators did not perceive the Smulyan calculus. Emmis sold its TV stations beginning in 2005 for a $300 million profit. If those stations would sell at today's prices, the company would incur a $200 million loss. Smulyan was brilliant to spot the looming adverse change— phenomenal growth of subscription television and the ultimate loss of content for network TV.
On the other hand, as Smulyan said, "I can tell you that I got out of TV but I stayed in radio, and that's like parachuting from the Hindenburg and landing on the deck of the Titanic." Smulyan is a radio guy— a tough addiction to break.
How will Smulyan engineer the Emmis stock above $1? I don't know. He has the creativity and brains to do that, and he is highly motivated. He has been working on what he describes as an industry game changer, positioning radio stations to be accessible by smartphone apps. Emmis has built NextRadio for the radio industry and now has agreements with AT&T, Sprint, T-Mobile and U.S. Cellular. He believes it will transform how people consume radio. I'm not concerned with "how." I like to bet on people. Smulyan is a good bet.•
__________
Maurer is a shareholder in IBJ Media Corp., which owns Indianapolis Business Journal. His column appears every other week. To comment on this column, send e-mail to mmaurer@ibj.com.
Please enable JavaScript to view this content.